34 Seats Rosa Bus Rent with Driver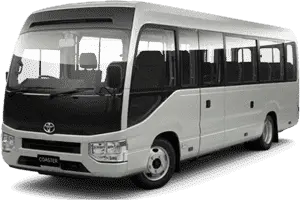 34 Seats Rosa Bus Rental Dubai, Sharjah UAE
34 Seats Rosa Bus Dubai – Rosa Bus 34 Seats Dubai – Sharjah UAE, Mitsubishi Rosa bus 34 seats is the best option for 33 passengers and ideal for 27 passengers. The bus is mainly used for Events transport, hospital transport, Staff transportation, Wedding transport, Big families transport and City tours, etc.
Mitsubishi Rosa bus 34 seater is showing high resistance to hot climate and very best for Dubai UAE weather.
The Rosa Bus is the most famous vehicle after Toyota Coaster 30 seats, for transporting a large group.
A Mitsubishi 34 seats bus is a worthy addition to the fleet because the max capacity in the small ranges is a 30 seats coaster bus.
We committed to serve our valuable clients with all the available options in Mitsubishi Rosa buses in our Dubai branch of 34 Seats Rosa Bus Dubai – Rosa Bus 34 Seat Dubai – Sharjah.
Low Budget Bus for Big Group
The 34 seat Rosa bus can accommodate up to 33 passengers per trip in a comfortable manner and it's one of the low-budget buses that can carry a big group. It has ample space for both passengers and luggage to carry from one point to another all over UAE.
Best Option for a Large Group or Family Transport
Traveling with a large group of people or with a large family in Dubai UAE could mean logistics headaches. We have a great option with quality yet low budget Buses like 34 Seats Rosa Bus Dubai – Rosa Bus 34 Seater Dubai – Sharjah that can accommodate from 16 passengers to 33 passengers.
Rosa 34 seat bus is the best option for a large group or family especially for enter city travel like Dubai to Abu Dhabi ride or Dubai to any other city transport or full day sightseeing.
These types of big Mitsubishi buses have ample legroom to expand your legs in a tired situations especially while traveling for a long destination like Dubai to Abu Dhabi, Al Ain or Fujairah, etc, The Rosa bus flexible seats will give a comfortable ride.
Grab from us the best bus rental rates for a day or week with the driver now, You will find our services and offer great compare others transport companies in Dubai who also offer 34 seats Rosa bus Dubai – Rosa bus 34 seats Sharjah rental services.
For further info regarding Rosa's bus hire with driver or rates inquiry please follow beneath links.
Hire 34 Seats Bus in Dubai  ( For Details Click Here)
34 Seater Bus Rental Rates  (Click Here for an instant quote)
Comfortable Minibus, typically with cloth seats and limited luggage space, 33 Seats, Seats Belts, AUX System, Great Sound System, Microphone, Air-condition, Made (Mitsubishi), Passing path in middle of bus etc
AALI Transport and Bus Rental Dubai LLC is The Leading Transportation Company & Best Bus Rental Company in Dubai, Sharjah & Abu Dhabi  UAE.
We Offers a Premium Vehicles Renting Service in Dubai For Picnic &  Parties Transport , Guest Transport , Family & Friends Transport , Events Transport , Airport Transfer , City Tour Transport, Hotel Transport, Group Passenger Pick n Drop, Sightseeing Transport etc.
We Have All Types Of Luxury Minivan and Buses with Drivers Rental Services On Daily & Weekly Bases All Over UAE.