Desert Safari Dubai  Experience the Adventure of Arab Desert
Desert Safari Dubai
Experience the taste of thrilling Desert Safari Dubai with us with no prior planning or organizing anything. Our professional staff from the office coordinator to the guide and driver will take care of all desert safari journeys from hotel pickup till drop-off back to the hotel safely.
Our safari licensed driver will pick up you by private vehicle either by minivan or luxury bus (subjected to the numbers of people in the group) from any hotel/residence inside Dubai city around 3.30 pm to 4:00 pm.
The driver will drive you via Sheikh Zayed road toward Dubai desert to the Land Cruiser 4×4 vehicle stop.
The well-trained safari Land Cruiser driver will take you from there to the first incredible journey of the Desert Safari tour, which is called Dune Bashing.
Before heading to the dune bashing start point, the Land Cruiser tires will be deflated by the driver to allow for maximum traction against the moving sand.
The driver will guide you about the safety and necessary information before commencing the dune bashing ride.
Promo Offer: Book Half Day Dubai city tour at morning with evening desert safari and get 10% discount rates.
–  Experience Dune Bashing Drive in Arab Red Desert:     

Dune bashing is a highly thrilling and most favorite activity among all desert adventure activities, driving over sand with slow and high speed by maintaining balance while going up and down on the dunes will make you cry from great fun.
You will enjoy the thrill while the dune driver drives into the high dunes small hills, the dune bashing excitements began along the tops of the high sandbars; the ride is a thrill as you dip in speed through the desert dunes before the sand slips away.
–   Enjoy The Incredible Ride of Camel         
After the dune bashing thrilling experience, head to enjoy the Arab people's past ride, the fantastic Camel Ride.
Camels are famous for a long-distance ride in the desert without food and water etc, for approx two days, and this special God-gifted discretion makes Camels hold a respectable position in Arab tradition.
Free camel ride duration in our safari deals is 10 to 15 minutes (can be extended upon customer's request, (Additional payment will apply accordingly).
The camel ride experience is a highly exciting activity in the Dubai desert safari tour; for your info (max two people can ride at a time).
The 15 feet height ride from ground-level adventure will surely entertain you very well, this camel ride experience will take you back to the time when the Arab tribe was traveling in past days from one place to another.
Enjoy the red sand view from the top, and take some memorable pictures.
–  Enjoy an Exited Ride by Quad Bike (Additional Charges Apply)   
Next, experience the Arab desert by a quad bike ride. Before heading on a bike ride, hide your head and face by scrap to avoid blowing sands.
One bike can drive alone, or you can set someone with yourself too in the rear seat (Quad bike is extra chargeable and the extra charges are subjected to the duration you ride the bike).
Even though the quad bike is a costly activity in Desert Safari Dubai Deals, but the adventure of a desert ride by bike has some unique fun and thrill which worth a single pill you spend and unforgettable forever.
Enjoy unlimited sand boarding for free after ending with a quad bike. Go on a dune top, slip your feet into straps, and move forward from dune top toward the bottom, and let gravity rest.
When you try your 1st leap, you might feel scared, but after a few attempts, you will get confident.
Your feet and shoes will be entirely fullest, and it's time to get the sand out of your shoes, stuff, beer, and clothes, etc., all of you will be getting sand, sand, and sand out of your shed.
After finishing the ATV bike ride and sand boarding, go and climbed up to the dune top and watch the burnt orange sunset in the seemingly endless desert. What a memory it is. (Make sure to take lots of pictures once the sunset).
The driver will take you to the desert safari camp after ending all outdoor activities, take a deep breath, and rest for a few minutes in your seat at camp.
Get and enjoy the free cold drinks and tea coffee under the clean blue sky with shining stars with family.
Photos With Eagle: Get some memorable photos for free with the eagle and share them with your friends and social media.
Now it's time to do some shopping if you are a shopping lover and especially like an Arab traditional artificial jewelry, dresses, and costly stone.
There are many small gift shops and
Click to See Other Tour Packages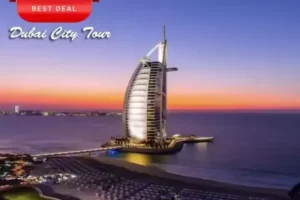 Dubai Desert Safari Video
Book the Best Desert Safari Deal 2021
AAli Tourism Dubai LLC offers the best and budget Desert Safari Dubai deals in 2021 in UAE.
Our company has been offering the adventure tour of desert safari services since 2007, which lead us to be one of the leading, most experienced, and best desert safari operators in UAE.
Desert Safari is a must-do activity, and we recommend that every tourist, traveler, and visitor shall include this thrilling activity in their bucket list in advance even if you have a short layover in Dubai.
If you have a short layover in Dubai and want to enjoy the desert safari trip, so we can arrange to pick up from Dubai airport and transfer you straight to safari camp and will drop you back at DXB airport or hotel.
The desert safari deal seekers could get advance desert safari booking from us with no single pills to pay in advance if you are outside UAE.
Being so flexible in our terms & conditions makes us the most customers' friendly and best desert safari tour operator in town for abroad people as well as locals.
We offer all desert safari deals and packages which fulfill the needs and requirements of every adventurer, traveler, tourist, and family, either small or big group.
Desert Safari Inclusion
✅  Pick up by Minivan or Buses from doorstep with in Dubai & Sharjah city.
✅  Drive through Sheikh Zayed road toward our desert safari camp, on the way you will be entertained of desert routes the driver follow (A Private Exclusive ride from hotel to safari).
✅  10 to 20 minutes dune bashing by 4 x 4 Land Cruisers upon arrival at desert safari camp.
✅  Photography at sun set time.
✅  Thrilling camel rides.
Types of Desert Safari
There are three types of Desert Safari in Dubai. One is evening desert safari, second overnight desert safari, and third is morning desert safari.
The evening desert safari considers being the best safari, which includes full safari adventure activities.
The evening desert safari starts from 4 pm and continuous till 8 pm, while the overnight safari starts from 4 pm and continuous till morning, you will spend the whole night in desert camp.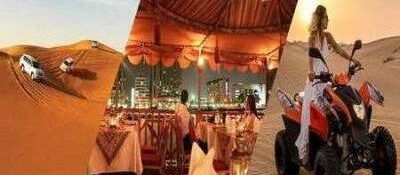 Evening Desert Safari Dubai
Evening desert safari is the most thrilling and enjoyable desert safari among all other safari types.
The duration of the evening or sunset Desert Safari is 5 to 6 hours total, which includes the transfer time from hotel to safari camp and back.
Evening or afternoon desert safari starts around 4 pm and
Overnight Desert Safari
Extend your knowledge about Arab tradition and culture in our camp at Overnight safari experience, go back, feel, and imagine Arab people's life 70+ years ago.
The overnight desert safari journey starts from hotel/villa etc in Dubai or Sharjah by private minivan.
On arrival to safari camp, enjoy 30 minutes
Morning Desert Safari
The morning desert safari is mostly likable in hot weather season from May till the end of August as the weather is not much warmer compared to evening and overnight safari.
There are no more adventurer activities and rush of people at morning safari compare other safari deals. However, many people still love to experience a sunrise safari to start their day fresh.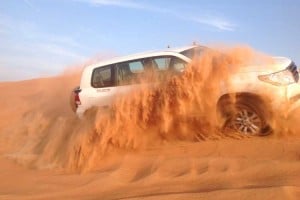 Dune Bashing  
Dune bashing often called the adventure ride in the red desert, it is one of the most demanding and favorite activity of Dubai safari adventure tour.
The 4 x 4 dune bashing drivers are highly trained and possess a strong experience to drive from one dune to another, drive from top of the desert dune to ground, sliding up and down at desert dunes.
Dune bashing will give you an amazing feeling from start till the end; it is the 1st thrilling activity of the Desert Safari package. (Note: There is a time limit of dune bashing, if you want to extend the default time then additional cost will apply.
Kindly take a look at below instructions about safari before booking.
Camel Ride
The desert riding camels are highly trained, the soft ride of camel will make your time unforgettable.
A memorable snapshot for social sharing can be taken while riding on a camel; the short camel ride will feel you walk in the desert at 10 feet high from ground level which will really make you amazed.
Note: Private camel ride option is also available if you are in hurry for this exciting adventure ride without waiting in the queue.
Belly Dance Live Show
Indeed a desert safari without watching a live belly dance is incomplete; we have two belly dance shows with live music performed by a hot dancer girl, parallel with it a folk type of dance which Sufi men wearing white and red dresses present a unique traditional dance in front of the guests.
Most tourists touring safari just to watch belly dance shows, because they want to grab the max fun by watching a live professional belly dance show perform by a hot lady dancer.
When the lady dancer moves their bellies with live music in an Arabic dance way then it seems all the guests get freeze and they feel their self stuck while the dancer performing an Arabic stunt and fire show.
Buffet Dinner (BBQ)
The dinner comprised of a different verity of meals, and it is free you can get as much
as you want at reserved meal area.
We always strive to provide the best facilities to our safari guest in the maximum best possible way, thus we have an engagement with Dubai top catering services provider companies which meals are famous in all over UAE.
The dinner includes Cold Drinks, Mineral Water Bottles, Coffee Tea, Starters, On-spot BBQ cooking, Vegetarian and Non-Vegetarian Foods, etc.
Tips for the Safari Adventure Trip
Wearing a casual light dress with a thin jacket is recommended.
Open shoes, sandals are preferred as you will walk in the desert and often get in and out of land cruiser or van; open-type shoes will avoid sands to get in into your shoes and stuck.
Carry costly items like mobiles, jewelry, wallets are not recommended.
If you have motion sickness or back problems, avoid dune bashing, camel ride, and sandboarding activities.
The dune bashing ride is up and down ride on desert dunes, so avoid the heavy meal before going on safari.
Sunglasses are highly recommended as sands might get into your eyes while enjoying camel and sandboarding or during the quad bike ride.
Apply sun-protected lotion on your skin as the sun is hot enough in the summer and wear the cap.
Dune bashing, camel ride, and Quad bike activities are not recommended for below three years kids, pregnant women, heart patients, and old age peoples.
Carefully listen to the instructor's advice before performing any thrilling activities such as sandboarding and a quad bike ride.
How much does desert safari cost in Dubai?
Desert safari Dubai cost per head is not static and defend on the size of group and the season.
The approx desert safari cost is 130 AED to 190 AED while sharing basis safari cost is lesser as there will be no exclusive vehicle and you will have to go to specific stop to get the ride.
We offer only exclusive safari deals and not sharing basis.
Minimum 5 people are required for our safari deals as we provide separate vehicle for each group.
Which is the best desert safari operator in Dubai?
Indeed there are so many tourism operators in Dubai offering best desert safari packages, some safari operator are enough costly while some are mid range level.
Being in business of tourism since 2007 and based on positive customer feedback, we consider our self to be one of the best desert safari tour operator in Dubai.
We never compromised on services and always win the heart of our customers by providing best and economic services, thus they always been recommending us to others friends and families.
What is included in Desert Safari Dubai?
There are three types of desert safari, 1- Evening desert safari, 2- Morning safari and 3- Overnight safari. The overnight and morning safari activities are limited while the evening desert safari includes almost all safari activities.
The desert safari Dubai includes of Dune basing, Camel ride, Sand boarding, Quad bike, Horse ride, Cold drinks, Sheesha, Henna tattoo, Sunset photos, Photos with eagle, Belly dance, Tannuara dance, Fire shows, BBQ dinner
How far is desert safari from Dubai?
All desert safari camps own by any operator are outside UAE in open desert areas.
Most of desert safari camps are located in Aweer areas and Al Ain road.
The safari camps are around 70km far from Dubai city areas and the rides takes approx 45 minutes from Dubai city hotels.
How long does desert safari take?
There are 3 types of desert safari which  are (Evening, Morning and Overnight Safaris).
The evening safari begin from 4 pm and continue till 7 pm which includes ride time from hotel to safari camp and back, so total time is approx 5 to 6 hours.
The Morning safari starts from 6 pm till 9 pm including rides time, and also the activities are very less in morning time so it takes max 4 hours.
The overnight safari duration is approx 12 hours, which start from evening 5 pm and continuous till next day morning.
What is the age limit for desert safari in Dubai?
There is no any age limit for desert safari in UAE, but there are some instruction to be followed for infants, child, pregnant women and those people having back problems. Kindly see the tips for safari trip mentioned above.
Also the child below 5 years must go with their parents or guardians so that they take care of child. Private vehicle is recommended for them.
How should I dress for a desert safari?
Wearing a casual light dress, open shoes like sandals, apply sun protected cream and sunglasses are recommended.
Also avoid taking jewelries and costly things with your self.
Is dune bashing safe?
Dune bashing is indeed safe for normal peoples, but not for pregnant women, the person having back boon problems, for infants child and bad for heart patient peoples.

AALI Transport and Bus Rental Dubai LLC is The Leading Transportation and One of The Best Bus Rental companies in Dubai, Sharjah & Abu Dhabi  UAE.
We Offer a Premium Vehicles Renting Service in Dubai For Picnic &  Parties Transport, Guest Transport, Family & Friends Transport, Events Transport, Airport Transfer, City Tour Transport, Hotel Transport, Group Passenger Pick n Drop, Sightseeing Transport, etc.
We Have All Types Of Luxury Minivan and Buses with Drivers Rental Services On Daily & Weekly Bases All Over UAE.
COMPANY INFORMATION
Add: Sheikh Zayed Road Dubai & Rolla Sharjah