Desert Safari Dubai  Experience the Adventure of Arab Desert
Desert Safari Dubai
Welcome to Desert Safari Dubai, your ultimate destination for an unforgettable desert adventure in Dubai. We are a leading and trusted desert safari company offering a range of thrilling safari experiences that will leave you with lifelong memories. Whether you're looking for an exhilarating evening desert safari, a private desert safari, or the best desert safari deal in Dubai, we have you covered.
Unforgettable Desert Safari Journeys
Our safari licensed driver will pick you up in a private vehicle, either a comfortable minivan or a luxury bus, from any hotel or residence within Dubai city. Sit back, relax, and enjoy the scenic drive via Sheikh Zayed Road towards the mesmerizing Dubai desert, where your extraordinary adventure begins.
The driver will drive you via Sheikh Zayed Road toward Dubai desert to the Land Cruiser 4×4 vehicle stop.
The well-trained safari Land Cruiser driver will take you from there to the first incredible journey of the Desert Safari tour, which is called Dune Bashing.
Before the dune bashing ride, the driver will guide you about the safety and necessary information.
Enjoy a fantastic promo offer: Book a Half Day Dubai city tour in the morning and an evening desert safari and get a 10% discount. Explore Dubai's iconic landmarks during the city tour and experience the thrill of the Arabian desert with dune bashing, camel rides, cultural activities, and a delicious dinner. Don't miss out on this incredible opportunity to discover the best of Dubai at a discounted price. Book now and make unforgettable memories!
–  Dune Bashing – A Thrilling Ride Like No Other:     
Hold tight as our skilled and well-trained safari Land Cruiser driver takes you on a heart-pounding dune-bashing experience. Feel the adrenaline rush as the Land Cruiser maneuvers through the breathtaking sand dunes, providing an exhilarating ride that will leave you craving more.
Safety is our top priority, and our driver will provide the necessary guidance before the dune-bashing adventure begins.
–   Enjoy The Incredible Ride of Camel         
After the dune-bashing excitement, immerse yourself in the traditions of the Arabian people with an incredible camel ride. Explore the vast desert landscape on the back of a camel, just like the Arab tribes of old. Capture stunning photographs and create timeless memories as you enjoy the unique perspective offered by this ancient mode of transportation.
Enjoy the red sand view from the top, and take some memorable pictures.
–  Enjoy an Exited Ride by Quad Bike (Additional Charges Apply)   
Experience the exhilaration of a quad bike ride during your desert safari in Dubai. Ride through the vast Arabian desert, feeling the adrenaline rush as you explore the stunning landscape. Choose to ride solo or with a companion, and enjoy the thrill of this unique adventure. Please note that additional charges apply for the quad bike rental. Embrace the excitement and create unforgettable memories as you embark on this thrilling desert experience.
– Enjoy unlimited sandboarding: If you're up for more excitement, try sandboarding and conquer the magnificent dunes. Strap on your board, slide down the slopes and let gravity guide you through an unforgettable experience. It's a thrilling activity that will challenge and exhilarate you
After finishing the ATV bike ride and sand boarding, go up to the dune top and watch the burnt orange sunset in the seemingly endless desert. What a memory it is. (Make sure to take lots of pictures once the sunset).
As the sun begins its descent, head to our desert safari camp to unwind and indulge in unforgettable experiences. Enjoy refreshing cold drinks, traditional tea, and coffee under the mesmerizing blue sky with twinkling stars.
Photos with Eagle: Get memorable photos for free with the eagle and share them with your friends and social media.
Now it's time to shop: If you are a shopping lover, especially in Arab traditional artificial jewelry, dresses, and costly stone.
There are many small gift shops and
Click to See Other Tour Packages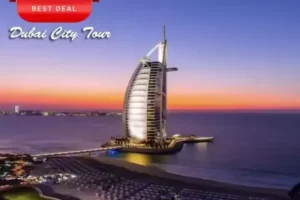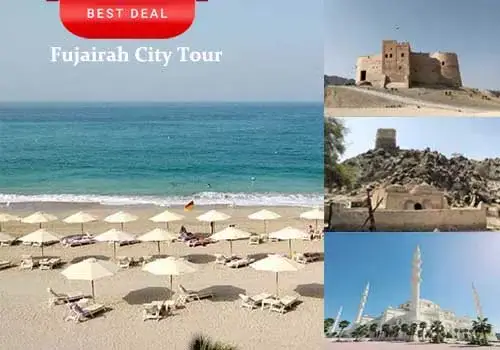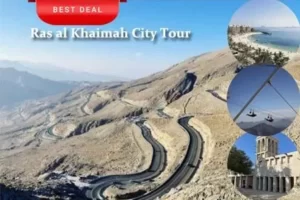 Dubai Desert Safari Video
Desert Safari Inclusion
✅  Pick up by Minivan or Buses from doorstep with in Dubai & Sharjah city.
✅  Drive through Sheikh Zayed road toward our desert safari camp, on the way you will be entertained of desert routes the driver follow (A Private Exclusive ride from hotel to safari).
✅  10 to 20 minutes dune bashing by 4 x 4 Land Cruisers upon arrival at desert safari camp.
✅  Photography at sun set time.
✅  Thrilling camel rides.
Types of Desert Safari
Three types of Desert Safari experiences are available in Dubai: the Evening Desert Safari, Overnight Desert Safari, and Morning Desert Safari.
The Evening Desert Safari is widely regarded as the premier safari option, offering a comprehensive range of adventurous activities. This safari begins at 4 pm and continues until 8 pm, providing ample time to immerse yourself in the desert adventure.
For a more immersive experience, the Overnight Desert Safari is the perfect choice. Starting at 4 pm, this safari extends throughout the night, allowing you to spend the entire night at the desert camp. It offers a unique opportunity to embrace the tranquility and beauty of the desert under the starry night sky.
Lastly, the Morning Desert Safari is a refreshing option for early risers. It typically starts in the early morning, offering a refreshing and peaceful encounter with the desert landscape. The morning hours provide a serene atmosphere to enjoy the desert's activities and beauty.
Choose the desert safari experience that suits your preferences and schedule, and embark on a memorable journey into the mesmerizing desert of Dubai.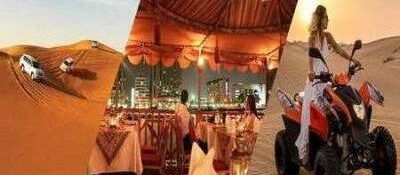 Evening Desert Safari Dubai
Evening desert safari is the most thrilling and enjoyable desert safari among all other safari types.
The duration of the evening or sunset Desert Safari is 5 to 6 hours total, which includes the transfer time from hotel to safari camp and back.
Evening or afternoon desert safari starts around 4 pm and
Overnight Desert Safari
Extend your knowledge about Arab tradition and culture in our camp at Overnight safari experience, go back, feel, and imagine Arab people's life 70+ years ago.
The overnight desert safari journey starts from hotel/villa etc in Dubai or Sharjah by private minivan.
On arrival to safari camp, enjoy 30 minutes
Morning Desert Safari
The morning desert safari is mostly likable in hot weather season from May till the end of August as the weather is not much warmer compared to evening and overnight safari.
There are no more adventurer activities and rush of people at morning safari compare other safari deals. However, many people still love to experience a sunrise safari to start their day fresh.
Dune Bashing  
Dune bashing, also known as the exhilarating adventure ride in the red desert, stands as one of the most sought-after activities in Dubai's safari adventure tours.
Our highly skilled 4×4 dune bashing drivers are extensively trained and possess significant experience in navigating desert terrain. They effortlessly maneuver from one dune to another, skillfully driving from the pinnacle of a desert dune to the ground, creating an exhilarating sensation as they slide up and down the sandy slopes.
Dune bashing is the first thrilling activity included in our Desert Safari package, and it guarantees an incredible experience from start to finish. Please note that there is a designated time limit for dune bashing. If you wish to extend the default duration, additional costs will apply.
Before proceeding with your booking, we kindly request that you review the following instructions regarding the safari:
Camel Ride
Camel Ride: A Timeless Desert Experience
Our desert riding camels are meticulously trained to ensure a smooth and enjoyable ride, creating an unforgettable experience for our guests.
Embark on a camel ride and discover the serene beauty of the desert from a unique perspective. The gentle sway of the camel's gait will transport you to a place of tranquility and awe.
Capture a memorable snapshot during your camel ride, perfect for sharing on social media. As you ascend to a height of 10 feet above ground level, you'll feel as if you're walking through the desert, immersing yourself in its vastness and grandeur.
We offer a private camel ride option for those who are pressed for time and prefer a more exclusive experience. This allows you to enjoy this exciting adventure without waiting in queues, ensuring a seamless and personalized desert encounter.
Indulge in the timeless tradition of camel riding and create lasting memories amidst the captivating landscape of the desert.
Belly Dance Live Show
No desert safari experience is complete without witnessing a mesmerizing live belly dance performance. At our safari, we present two captivating belly dance shows accompanied by live music performed by talented and charismatic dancers. A traditional folk dance featuring Sufi men adorned in white and red attire adds a unique cultural touch to the spectacle.
Many tourists embark on safari adventures specifically to witness these enchanting belly dance shows. They eagerly anticipate the thrill and enjoyment of watching a professional dancer gracefully move their body in sync with the Arabic music. As the dancer captivates the audience with their rhythmic belly movements, it creates a mesmerizing atmosphere where the performance entrances guests.
Moreover, our belly dance show includes Arabic stunts and dazzling fire performance, further enhancing the excitement and entertainment value of the experience.
Prepare to be enchanted by our talented belly dancers' grace, skill, and passion as they showcase their artistry against the backdrop of the desert. It is an experience that will leave you captivated and provide memories to cherish long after your desert safari ends.
Buffet Dinner (BBQ)
Our buffet dinner is a gastronomic delight, offering various delectable dishes to satisfy every palate. The best part? It's free, allowing you to indulge in as much food as you desire at the reserved meal area.
At our safari, we prioritize providing the finest facilities to ensure an exceptional experience for our guests. We have partnered with Dubai's top catering service providers, renowned for their culinary expertise and widely acclaimed meals throughout the UAE to achieve this.
Our buffet dinner encompasses many options to cater to different preferences. Enjoy refreshing cold drinks, mineral water bottles, coffee, and tea to quench your thirst. Begin your dining experience with tantalizing starters that will awaken your taste buds. Experience the thrill of on-spot BBQ cooking, savoring the aroma and flavors of perfectly grilled dishes. Whether you follow a vegetarian or non-vegetarian diet, our buffet offers a delightful selection of both options, ensuring there is something for everyone to enjoy.
Relish the culinary delights and indulge in a feast that will satisfy you. As you savor each bite, bask in the warm and inviting atmosphere of the meal area, creating unforgettable memories of your desert safari experience.
Tips for the Safari Adventure Trip
Wearing a casual light dress with a thin jacket is recommended.
Open shoes, sandals are preferred as you will walk in the desert and often get in and out of land cruiser or van; open-type shoes will avoid sands to get in into your shoes and stuck.
Carry costly items like mobiles, jewelry, wallets are not recommended.
If you have motion sickness or back problems, avoid dune bashing, camel ride, and sandboarding activities.
The dune bashing ride is up and down ride on desert dunes, so avoid the heavy meal before going on safari.
Sunglasses are highly recommended as sands might get into your eyes while enjoying camel and sandboarding or during the quad bike ride.
Apply sun-protected lotion on your skin as the sun is hot enough in the summer and wear the cap.
Dune bashing, camel ride, and Quad bike activities are not recommended for below three years kids, pregnant women, heart patients, and old age peoples.
Carefully listen to the instructor's advice before performing any thrilling activities such as sandboarding and a quad bike ride.
How much does desert safari cost in Dubai?
Desert safari Dubai cost per head is not static and defend on the size of group and the season.
The approx desert safari cost is 130 AED to 190 AED while sharing basis safari cost is lesser as there will be no exclusive vehicle and you will have to go to specific stop to get the ride.
We offer only exclusive safari deals and not sharing basis.
Minimum 5 people are required for our safari deals as we provide separate vehicle for each group.
Which is the best desert safari operator in Dubai?
Indeed there are so many tourism operators in Dubai offering best desert safari packages, some safari operator are enough costly while some are mid range level.
Being in business of tourism since 2007 and based on positive customer feedback, we consider our self to be one of the best desert safari tour operator in Dubai.
We never compromised on services and always win the heart of our customers by providing best and economic services, thus they always been recommending us to others friends and families.
What is included in Desert Safari Dubai?
There are three types of desert safari, 1- Evening desert safari, 2- Morning safari and 3- Overnight safari. The overnight and morning safari activities are limited while the evening desert safari includes almost all safari activities.
The desert safari Dubai includes of Dune basing, Camel ride, Sand boarding, Quad bike, Horse ride, Cold drinks, Sheesha, Henna tattoo, Sunset photos, Photos with eagle, Belly dance, Tannuara dance, Fire shows, BBQ dinner
How far is desert safari from Dubai?
All desert safari camps own by any operator are outside UAE in open desert areas.
Most of desert safari camps are located in Aweer areas and Al Ain road.
The safari camps are around 70km far from Dubai city areas and the rides takes approx 45 minutes from Dubai city hotels.
How long does desert safari take?
There are 3 types of desert safari which  are (Evening, Morning and Overnight Safaris).
The evening safari begin from 4 pm and continue till 7 pm which includes ride time from hotel to safari camp and back, so total time is approx 5 to 6 hours.
The Morning safari starts from 6 pm till 9 pm including rides time, and also the activities are very less in morning time so it takes max 4 hours.
The overnight safari duration is approx 12 hours, which start from evening 5 pm and continuous till next day morning.
What is the age limit for desert safari in Dubai?
There is no any age limit for desert safari in UAE, but there are some instruction to be followed for infants, child, pregnant women and those people having back problems. Kindly see the tips for safari trip mentioned above.
Also the child below 5 years must go with their parents or guardians so that they take care of child. Private vehicle is recommended for them.
How should I dress for a desert safari?
Wearing a casual light dress, open shoes like sandals, apply sun protected cream and sunglasses are recommended.
Also avoid taking jewelries and costly things with your self.
Is dune bashing safe?
Dune bashing is indeed safe for normal peoples, but not for pregnant women, the person having back boon problems, for infants child and bad for heart patient peoples.
AALI Transport and Bus Rental Dubai LLC is The Leading Transportation and One of The Best Bus Rental companies in Dubai, Sharjah & Abu Dhabi  UAE.
We Offer a Premium Vehicles Renting Service in Dubai For Picnic &  Parties Transport, Guest Transport, Family & Friends Transport, Events Transport, Airport Transfer, City Tour Transport, Hotel Transport, Group Passenger Pick n Drop, Sightseeing Transport, etc.
We Have All Types Of Luxury Minivan and Buses with Drivers Rental Services On Daily & Weekly Bases All Over UAE.
COMPANY INFORMATION
Add: Sheikh Zayed Road Dubai & Rolla Sharjah