Khor Fakkan City Tour with Top Tourist Attractions Itinerary
Khor Fakkan City Tour
Our meticulously planned full-day Khor Fakkan City Tour package is by far the best and most cost-effective way to explore the most popular attractions of Khorfakkan city. As we are one of the best tour operators in Dubai, we're sure you'll love our Khor Fakkan itinerary which includes top tourist attractions of Khorfakkan city!
We will be visiting both old and new sights so you don't miss out on the best tourist attractions in Khor Fakkan. You'll be blown away by some awesome scenery along the way too.
Although Khor Fakkan is mostly flanked by Fujairah, it belongs to the emirate of Sharjah. The ruler of Sharjah lays great emphasis on culture, learning, and family destinations and there has been a lot of exciting new development in the town as well as restoration.
The main town lies on the coast but it stretches inland to mountains, lakes, and wadis. It even has a tiny enclave inside an Omani enclave. This is not far from Wadi Shees. Look out for its many watchtowers.
Khor Fakkan also has several beaches and one will soon have a luxury resort whilst another will have a zipline and other adventures.
You'll find so many interesting things to see and do that you're sure to want to come back for a second visit!
Highlights of Khorfakkan Tour from Dubai
Our experienced driver with a brand new air-conditioned tourist van or bus will come to your doorstep in Dubai or Sharjah as per your advised pickup location and time and drive you toward an unforgettable Khorfakkan day tour.
Below are the most visited tourist attractions in Khorfakkan city which are included in our default Khorfakkan tour itinerary:
Fountain Roundabout: You'll be welcomed on our Khorfakkan city tour by the mesmerizing dancing fountains both on and all around the roundabout. In the middle, you'll see a giant Bakhour, which is a traditional burner for scented wood, etc.
Resistance Monument: From there, we'll take you up to the stunning Resistance Monument where you look down to the beautiful fountain parks and directly across to Flag Park. The Resistance Monument was built recently in honor of those who risked their lives resisting the Portuguese invaders 500 years ago.
Khor Fakkan Old Souq and Hisn Museum: The Khor Fakkan City Tour continues on then to the recently restored old souq with its old-time ambiance. Here you can buy perfume, old artifacts, crafts and visit the Museum of Traditional Crafts, an excellent exhibition depicting crafts, trades, and lifestyles of the local people not so very long ago.  It's also a great place to try local cuisine, whether a snack or a full meal.
At the same stop, you can visit the Al Hisn Museum which tells the stories of Sharjah's eastern enclaves, going right back to the Stone Age. The archaeological site of the old Portuguese Fort is also within walking distance.
Khor Fakkan New Corniche: The time now for the Dubai to Khor Fakkan tour to head across to Khorfakkan corniche, with time to walk on the beach, take a short kayaking trip, or enjoy a coffee overlooking the sea.
Khor Fakkan Amphitheatre and Waterfall: Heading further along the corniche, the Khor Fakkan city tour takes you to the amphitheater and manmade waterfall, perfect spots for some great selfies!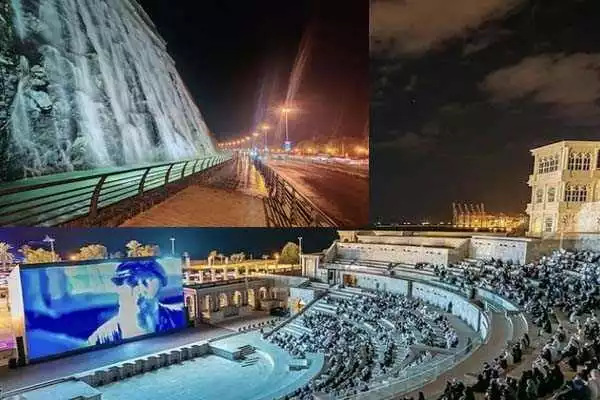 Suhub Rest Area: No Khor Fakkan itinerary would be complete without a stop at Suhub Rest Area. The restaurant at the top resembles a spaceship high up in the sky. You'll have time to walk around here enjoying the manicured gardens and wonderful views over the city.
Rafisah Dam: To wind up this amazing Khor Fakkan tour from Dubai, we'll stop on our way back at the Rafisah Dam. You'll have time to walk around the rest area, go boating on the lake (look out for the gazelles on the island!), feed the ducks, or take a stroll down The Walk.
If you've worked up a hunger again, there are lots to choose from in the restaurant cafe and there's also an ice-cream parlor.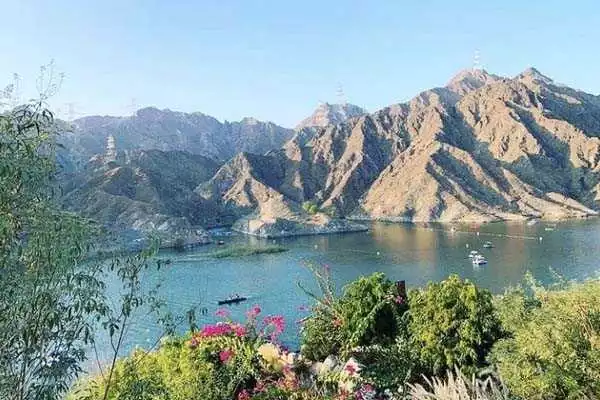 Wadi Shees: Just off the Khor Fakkan road lies the hidden Wadi Shees. The Wadi has natural water pools where swimming is allowed, a nature trail through the old village and farms, Shees Park where you can play, eat, or just relax and enjoy the view from the top. The Park has a water feature and makes for a lovely setting for photos.
Further down, we take you between the high walls of the wadi which has been created over thousands of years of rain. It's definitely an amazing sight not to miss.
Are you ready to join us on this fabulous Dubai to Khor Fakkan tour and see all the best places to visit in Khor Fakkan? We look forward to you joining us soon!
Other UAE Cities Tour Packages
Best Places to Visit in Khor Fakkan
Khor Fakkan city is filled with lots of modern and heritage tourist attractions which deserve to be visited must.
Below is the list of best places in Khor Fakkan city which every tourist must visit. A one-day tour deal is indeed not enough to cover all Khorfakkan tourist attractions, so the best way is to book 2 days tour deals with us to enjoy visiting all the best places with no hassle.
Resistance Monument, Fountain Park, Al Rabi Tower, Old Souq, Amphitheatre, Waterfall, Khor Fakkan New Corniche, Khorfakkan Beach, Suhub Rest Area, Najd Al Miqsar Village, Rafisa Dam, Wadi Shees, Shees Park, Portuguese Fort, Oceanic Hotel, Shark Island, Lou'lou'a Beach, al Hisn Museum, Heart Beach.
Include any of these in your Khorfakkan itinerary on your Dubai to Khor Fakkan sightseeing trip.
What are you waiting for? Book with confidence your Dubai to Khorfakkan tour or Dubai to Fujairah city tour with the experts in the field and see all the best places to visit in Khorfakkan!
To give you the best experience, we can tailor your Khor Fakkan itinerary and personalize it as per your choice and needs.
Don't forget to check our other trips so you can see all the beauty and history of the UAE! – If you are skyscrapers and modern attractions lover then book our Full-Day Dubai City Tour or Abu Dhabi Tour from Dubai packages. And if you are a mountains lover then head to Hatta city or book our Ras al Khaimah City Tour, and for green and natural attractions lovers, Al Ain City Tour is the best deal.