Fujairah City Tour with Best Tourist Attractions Visit
Fujairah City Tour
This 10 hours full-day Fujairah City Tour package is the best way to explore the modern and historical sights of Fujairah UAE city. We assure you that you will enjoy each second of this adventure-filled tour of Fujairah city by private tour buses with us.
The emirate of Fujairah stretches from the eastern coast to inland and is known for its mountains and hills, which we will pass through on our way.
The Hajar Mountains are rugged and barren but create a haunting effect of layers in the early morning. What a beautiful way to start your day! Although the mountains are barren, look out for the many farms and small villages in the valleys and wadis below.
Agriculture is still a key part of Fujairah's industry but the main one now is oil storage and shipping. You'll notice this on your journey between Fujairah and Khor Fakkan tour.
Another key industry is tourism and Fujairah is home to many great hotels along the coast of the Oman Gulf, from budget to luxurious.
Fujairah is also the perfect place for adventure with lots of hiking trails, MBX trails, scuba diving, snorkeling, jet ski, fishing trips, and more. These are undoubtedly some of the best tourist attractions in Fujairah.
Highlights of Fujairah Tour from Dubai
We are a private tour operator and provide a separate vehicle for each group (and not sharing basis tour services provider), so our drivers pick up the tourist from their hotel in Dubai or Sharjah as per their convenient time and drive toward Fujairah city via shortest possible routes.
Since its customizable private tour services so tourists can have multiple stops anywhere on the way back or forth they want to take pictures or have lunch or dinner in any restaurant.
Below are the top tourist attractions in Fujairah city which are included in this amazing journey.
Fujairah Seven Summits: The Fujairah city tour starts its journey of discovery with a photo stop at Seven Summits, the hiking trail across seven small summits each with a watchtower on top.
You'll have time to climb up to the first tower either by the winding path or if you're energetic, why not run up the steps! Whichever way you choose, you'll have a great view over Fujairah out to the sea. You can also just enjoy sitting in the park at the bottom instead.
Fujairah Grand Sheikh Zayed Mosque: The next Fujairah City Tour stop is at the awe-inspiring Fujairah Grand Sheikh Zayed Mosque. You'll soon spot it as we enter the town as its six minarets tower above the city.
The mosque was built recently according to Sulaimani style as is often seen in Turkey. It has a large inner courtyard, 65 impressive domes, and an exquisite pool and fountain.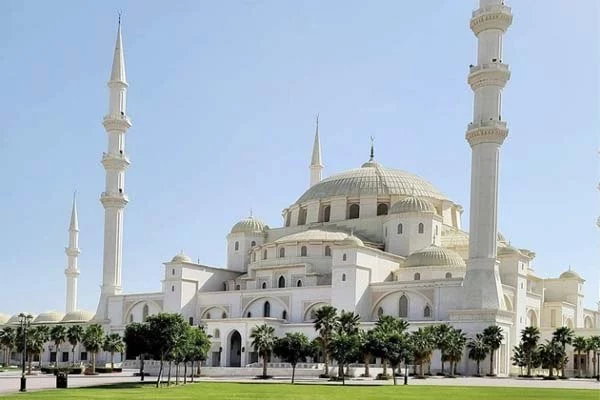 Fujairah Fort and Heritage Village: The next stop on the Dubai to Fujairah tour is 'Fujairah Fort and Heritage Village. The fort was built in the early 15th century and was restored early this century.
You'll have time to explore the various towers and courtyard and to climb to the top of the watchtower for an amazing view over Fujairah city.
Umbrella Beach: No Fujairah tour itinerary would be complete without a stop to the newly opened Umbrella Beach. Here you'll have time to relax by paddling in the sea, walking along the Gulf of Oman shore, or enjoying some refreshments in the myriad coffee shops before heading to our next exciting destination.
Bidya Mosque: The Bidya Mosque is one of the oldest mosques in the UAE dating back to around 1600. It has a very unique design with four low domes on its roof. Above the mosque stands a watchtower. Climb up for a view over the sea, farms, and mountains.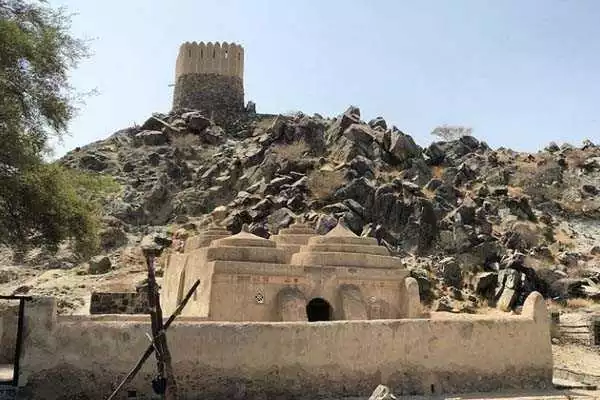 Are you ready to join us on this fabulous Fujairah tour from Dubai and see all the best tourist attractions in Fujairah!
Other UAE Cities Tour Packages Deals
Best Tourist Places in Fujairah
Below we have listed all the best tourist attractions in Fujairah city which deserve to be visited. Indeed there are lots of tourist attractions in Fujairah city which cant be covered in one-day tour deals, so the best way is to book two days tour packages and explore them all with no hassle.
Fujairah Grand Mosque, Fujairah Fort and Heritage Village, Fujairah Adventure Park, Al Hayl Fort, Fujairah Museum, Bidya Mosque, Bidya Hiking Trail, Seven Summits, Umbrella Beach, Friday Market, Masafi Fort, Bithna Fort, Sandy Beach, Royal Beach Hotel Resort, Al Aqah Beach, Sambraid, Wadi Abidala Hiking trail, Tayyibah Heritage Museum, Fujairah Classic Car Museum, The Flower Farm (seasonal), Wadi Kub, Ain al Sheria.
Include any five or less of the above tourist attractions on your Dubai to Fujairah tour package and enjoy an unforgettable day with us.
What are you waiting for? Book your Khor Fakkan tour or Fujairah tour with the experts in the field and see all the top tourist attractions in a day tour deal!
You can go through our other UAE amazing city's sightseeing deals so you can see all the beauty and history of the UAE! -If you like modern tourist attractions then book Dubai City Tour, or book Abu Dhabi City Tour and visit Sheikh Zayed Grand Mosque, Ferrari World, Louvre Museum, and More. To see UAE biggest mountains Jebel Jais and Jebel Hafeet then book Hatta Tour or Ras Al Khaimah City Tour, and if you are a lover of natural and green attractions the go for Al Ain City Tour