Hatta City Tour | Discover the Natural City of UAE
Hatta City Tour
This full-day Hatta city tour from Dubai will give you a close touch on the beauty of nature & greenery of the desert country UAE.
Hatta city is a natural city and true nature lover travelers will surely enjoy every minute of their journey in this adventure Hatta tour trip with us.
The Hatta city possesses some of the most beautiful & stunning attractions in UAE, and its amazing natural scenery makes it one of the best leisure destinations in UAE.
Also, Hatta is home to some beautiful mountain ranges, where you will find a heart touching tourist attractions like Hajar Mountain, Hatta Mountain Sign, Hatta Mountain Conservation Area, Hatta Mountain Greenerz 1, Hatta Water Dam, Hatta Hill Park, Hatta Mountain Bike Trail Centre, Hatta Wadi Hub Park, Hatta Lake, Hatta watchtower, etc.
If you are bored of the rushy & busy city of Dubai and want to have a peaceful time, then head to Hatta city from Dubai where the Hajjar Mountain cool temperature & so many outdoor adventures activities await you. If you are true nature and green attractions lover then take a look at our Al Ain city tour or Khor Fakkan tour deals which are the most beautiful leisure destinations apart from Hatta city.
Dubai to Hatta Tour by Bus
Hatta comes under the Dubai territory and located at the Oman border in the South-East of Dubai's main city areas and about 140 km far from Dubai, the private Hatta city tour bus takes approx 1 hour 30 minutes to reach the main Hatta tourist attractions spots.
Highlights of Hatta Tour From Dubai
The journey is a little longer so tourists can stop on the way and refresh themselves as there are many restaurants on the way going and back.
In this amazing Hatta city sightseeing tour, we will cover Hatta Lake, Hatta Dam, Hatta Hills Park, Wadi Hub Park, Heritage Village Hatta, and the very beautiful scenery view on both ways.
In this Hatta city tour by private vehicle, the driver will pick up the tourist from their doorstep in Dubai or Sharjah and will drive toward Hatta via Maliha road Sharjah S102 and will take the last exit which goes straight to Hatta city.
Going through this route we/travelers don't need to cross the Oman border thus vehicle insurance and Oman exit visa are not required. Also, this road is hassle-free and you will find less traffic, but the speed limit is a maximum of 100 km per hour.
In this Hatta adventure trip, our 1st tourist attraction is "Hatta Dam".
Hatta Dam or Hatta Lake: Experience the beautiful view of Hatta Dam. Hatta dam is one of the main tourist attractions in Hatta city.
The Hatta Dam is a natural dam and located in the middle of rocky stone mountains, the crystal clear green water and surrounding rocky gray color mountain generate an amazing view that attracts thousands of tourists each month.
Visitors can walk around Hatta Lake by legs and stop at many viewpoints for photoshoots as it's a truly picturing spot.
The tourist can spend a whole day here as it's the best place for camping, mountain biking & hiking, nature sightseeing, etc.
It's an amazing and adorable spot with a mountain surrounding the green water. Hatta dam is the best place for those who seek relaxation in natural places and look for a new experience of practicing Kayak sports.
Note: The dam authority doesn't allow to enter the main dam area by bus, so the driver has to park the bus in a reserved free parking area provided by the authority.
After spending a couple of hours at Hatta dam head to Wadi Hub Park which is located after a short drive from the lake.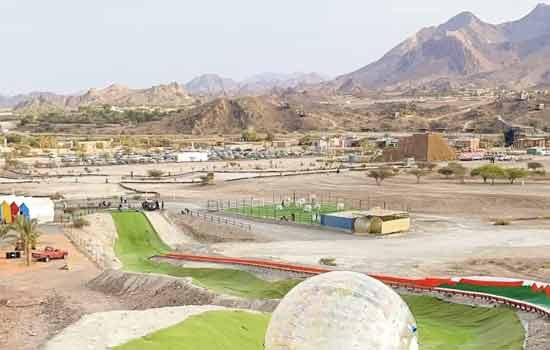 Wadi Hub Park Hatta: Visit one of the best outdoor adventure tourist spots which is a great family-friendly park and spend a couple of hours with the family in this largest national park which offers so many indulging activities for all ages of travelers like hiking, mountain biking, glamping, horse & camel ride, and kayaking, climbing wall and zip line, etc.
Apart from the above, explore the heritage and culture of Hatta here too.
The option of camping is also available here and travelers can spend a night under the shining sky in a peaceful & silent environment. You can either take your tents or even you can rent the tents here also.
Wadi Hub Hatta park is the best tourist attraction to enjoy with family and kids, snap some memorable pictures, and head to the next Hatta city tour place to grab more fun & enjoyment which is called Hatta Hill Park.
Hatta Hill Park: It's a must-visit place and the best picnic spot in Hatta city tour for those travelers who love BBQ, sunset view, swimming pool, etc.
The park includes a long-running track, a small football ground, and a children's playground.
Walk around and enjoy viewing the beautiful flowers around and feel relaxed and inhale cool & fresh air.
Hatta Heritage Village: The adventure of one day Hatta city tour is not yet completed, after spending some time at Hatta Hills Park visit Hatta Heritage which is a traditional village.
Discover more about Arab history and village life. Go back in past and imagine the living standard of desert life and feel how the old villagers were living their life.
The Hatta heritage village is a wonderful place to visit with family and kids which will give a deep understanding of what life was like.
Let your kids know the history of Arab and their culture.
Info: Get your food, water, etc with yourself as restaurants or shops are not available at Heritage Village Hatta.
After visiting Hatta Best Places, the driver will bring you back to Dubai and will drop you safely at your doorstep.
More Tour Packages: We offer Dubai sightseeing tours by private buses with the best tour itinerary also, if you love skyscrapers, luxury shopping malls, and modern attractions then Dubai city is the best city for you to explore. Apart from Dubai we also offer Abu Dhabi tour from Dubai packages on daily basis for groups of travelers and families. and If you like mountain cities then book a Ras al Khaimah tour or go for Khorfakkan tour packages
Discover More Tour Packages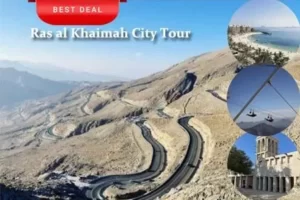 Things to do in Hatta
Hatta city offers lots of adventure activities where true adventure lovers can have a great experience of thrilling and entertainment activities.
Escape from the bustling cities and have some peaceful and noise-free time at Hatta with your family and friends on a day Hatta city tour trip by private tour bus.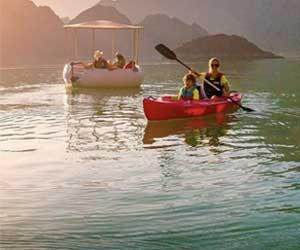 Kayaking: Experience Kayaking in Hatta dam in the crystal clear water surrounding by rocky mountains. Kayaking in a green water dam has some unique taste of fun & thrill.
Show More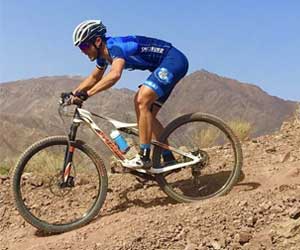 Mountain Bike Ride: Enjoy an adventure-filled Mountain Bike Ride (travelers can bring their own bike or even can rent a bike in Hatta which costs around 70 AED per bike).
Show More
Horse Ride: The horse ride is suitable for all ages of travelers, If you want to experience a horse ride then head to Hatta. The one-hour ride cost is around 90 AED.
Hatta Hiking: Hatta city is surrounded by small and big Rocky Mountains which makes Hatta city a perfect place for hiking. 
Show More
Camping:  If you like camping in silent environments surrounded by mountains and cool climate areas then head to Hatta city. Set up your tents in any designated
Show More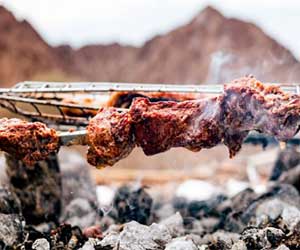 BBQ: Hatta is a great silent and clean city and the best place for BBQ cooking for families and travelers. There are many designated open places for
Show More
Best Places in Hatta
Hatta is a natural city and not an artificial city like Dubai or Abu Dhabi. There are lots of best places in Hatta which deserve to visit. A true natural attractions lover must include a Hatta city tour in their bucket list.
Below are the top places in Hatta city
1. Hatta Dam, Hatta Lake
2. Wadi Hub Park Hatta
3. Heritage Village Hatta
4. Hatta Hill Park
5. Hatta Mountain Bike Trails
6. Happiness Farm
Q: Do we need a passport to visit Hatta?
Hatta comes under Dubai territory and you don't need to carry a passport with you to go to Hatta. But of course, a valid visa is required either a visit visa or a work visa.
Many travelers get confused that Oman border crossing is a must to visit Hatta, so to clear the misunderstanding, the Hatta city is located just around the Oman border, but Oman border crossing is not required. You can freely visit Hatta city if you have a valid UAE visa.
Q: Do we need visa to enter Hatta?
To visit Hatta city, you don't need any special visa to enter Hatta as Hatta is part of UAE, as long as you have a UAE valid visa then you are good to go without any restrictions or crossing border, etc.
Q: How far is Hatta from Dubai?
Hatta city located in South-East of Dubai, and the distance from Dubai to Hatta main city by car or private Hatta tour bus is approx 1 hour and 40 minutes and Hatta city is around 120 kilometers far from Dubai main city areas.
Q: Is camping allowed in Hatta city?
Yes, there are few designated areas for camping in Hatta, the best places for camping in Hatta are National Park, Hill Park, and Wadi Hub Park which is surrounded by beautiful mountains, and the environment is very silent and peaceful. Also, the weather is so friendly comparing Dubai or other UAE hot cities.
Q: is Hatta open now?
Yes, Hatta is open now and will be open always hopefully. Almost all tourist attractions in Hatta city are open for tourists.
Q: How to get from Dubai to Hatta?
Escape from Dubai busy city and drive via Sharjah Maliha Road S102 and take the last exit which goes straight to Hatta city without crossing the Oman border. You will reach Hatta within 1 hour & 30 minutes approx.
The road is not much rushy so you can drive without blockage of traffic or traffic signals. The road speed limit is reduced to 100 km per hour now.
Q: is Hatta in UAE or Oman?
Hatta is part of UAE and located just near Oman and Dubai border and comes under Dubai government supervision.
Q: Can I swim in Hatta dam?
Swimming is not advisable for those who are not professional swimmers in Hatta dam. Also, there is no facility to supervise or guide the swimmers. So be careful. Avoid swimming completely in bad weather.
Q: is Hatta dam natural?
Hatta Dam is a manmade artificial dam created in the middle of the Rocky Mountains to supply irrigation to the near region, but the view of Hatta dam looks natural and it's not just to supply water but it's one of the best tourist places in Hatta.
Q: Is there a good place for BBQ in Hatta?
Hatta city is a quiet and clean place and there are many good places for BBQ. Hatta Hills Park and Wadi Hub Park are the best places in Hatta for BBQ where your child can play around in front of your eyes. Clean washroom and tent renting facilities are available also.