Transport Company in Dubai – Sharjah – Bus Services in Dubai
Who We Are ?
The Top Transport Company in Dubai and Sharjah UAE – Bus Services in Dubai
Warm Greetings! You have clicked on the best place to avail the best bus rental, minivan hire services in Dubai UAE you wish for! AALI Passenger Transport and Bus Services in Dubai is one of the best and most reliable company considering for bus rental and minivan renting with drivers in Dubai UAE. Please click our Main Page for further transportation and bus rental info.
Our Transport Company in Dubai – Sharjah UAE – Bus Services in Dubai packages includes : Dubai City Tour Transport, Dubai Sightseeing Transport, Abu Dhabi City Tour From Dubai, Sight-seeing Transport, Al Ain City Tour Transport, Pujaira Tour Transport, Ras Al Khaima City Transport, Group Passengers Pick n Drop Transport, Guest Transport, Weeding Transport, Events Transport, Airport Transfer, Hotel Transport, Family & Friends Transport.
AALI Passengers Transport and Bus Rental Dubai established in 2007.
AAli Bus Rental Dubai also provides Van and Buses with drivers rental on daily basis all over UAE. As one of the top transport , coaches, van rental, bus hire service providers in Dubai and Sharjah, we understand all your needs, and we are dedicated to meet them at affordable rates.
We have all the needy resources to take care of customer needs inline to vehicle selection from 12 seater Hiace van to the 50 Seater Luxury Bus Dubai. You can trust us to get your team land to your targeted destination with full confidence from our Dubai based branch of Transport Company in Dubai – Sharjah UAE – Bus Services in Dubai , AAli Bus Rent Dubai.
Minivan Rental Dubai and Bus Services in Dubai is our main program that serves our valued customers inside the UAE. We have been receiving valued customers from all over the world.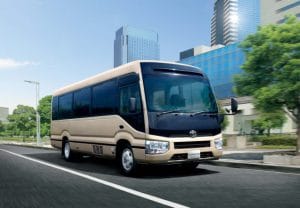 Transport Service in Dubai – Bus Services Dubai Program:
Our Transport Services in Dubai, Van Rental Dubai, Bus Services Dubai, Bus Hire in Dubai, Minivan Hire in Sharjah, Car Rental Dubai service programs are extended over many categories.
AALI Transport and Bus Rental Services LLC has minibuses, van and buses from 6 seating capacity until 50 seating capacity.  We posses luxury mini van and buses with executive drivers in Dubai as well as in Sharjah for small family tour and small passenger groups to corporate trips for multinational companies.
Our packages of transport company in Dubai – Sharjah UAE – bus services in Dubai subjected to exact customers demands & requirements. We are keenly focused on  Dubai City Tour, Abu Dhabi City Tour, Sightseeing, Guest Transport, Family Transport, Hotel Transfer, One Day Pick n Drop Transfer, Hotel Transfers, Group Passengers Picnic Transport, Weeding and Events Transportation etc all over UAE.

AALI Transport and Bus Rental Dubai LLC is The Leading Transportation Company & Best Bus Rental Company in Dubai, Sharjah & Abu Dhabi  UAE.
We Offers a Premium Vehicles Renting Service in Dubai For Picnic &  Parties Transport , Guest Transport , Family & Friends Transport , Events Transport , Airport Transfer , City Tour Transport, Hotel Transport, Group Passenger Pick n Drop, Sightseeing Transport etc.
We Have All Types Of Luxury Minivan and Buses with Drivers Rental Services On Daily & Weekly Bases All Over UAE.