Private Dubai Airport Transfer | Book Affordable Ride with us
Dubai Airport Transfer
If you are looking for affordable, professional, and reliable Dubai Airport Transfer services you can rely on them for your travel plan, so you come to the right place at right time.
We are proud to be the top local Dubai airport transfer services provider and we are committed to creating satisfying customers and getting you from or to DXB Airport on time every time.
Our drivers are the best in the industry and we even track your inbound and outbound flights to ensure we meet you at the right time.
Call, email, or WhatsApp one of our friendly staff now to schedule your airport rides prior.
Dedicated Staff for Advance DXB Airport Taxi Booking
When you choose our advance DXB Airport Taxi Booking services, you'll benefit from our experience, professionalism, and dedication to our customer care.
Our airport taxi drivers are smart, highly trained, and efficient with the great local Knowledge required to ensure you get to/from the airport.
To schedule your next airport transfer, call or email us anytime
Reliable & Trusty Airport Ride Services

Has it been hard to find someone you can rely on to get you to the airport on time, the last thing you want when traveling is to worry about missing a flight or to hang around the airport and waiting with your luggage waiting for pickup, you need an airport transfer services who can guarantee you get to and from the airport on time.
Whether you're traveling for business or pleasure, we operate reliable, affordable private door-to-door airport ride services.
Our drivers are well trained and professional; they will assist with your luggage and escort you to and from your booked private chauffeur.
When you book a Dubai airport taxi with us, so there is no need to worry about ruined travel plans when you schedule your next DXB airport pick & drop with us.
Our professional drivers and modern vehicles will transport you in style. Start and end your trip stress-free and on budget with us.
Book Affordable Airport To Hotel Transfer in Advance
Dubai is the city where everyone wants to travel & explore, however, due to a huge rush of travelers at the airport, it's stressful to get Airport to Hotel Transfer if you haven't booked your ride prior.
Indeed traveling to DXB airport from the hotel or from the airport to your hotel is a stressful & time-consuming activity especially if the route to the airport is crowded or you have an early morning departure or arrival.
To avoid this unnecessary stress, pre-booking a hotel to DXB airport taxi or vice versa is the best choice & even cost-effective.
The private chauffeur from/to DXB airport is not just for rich people, there are economic transfer facilities available for big families & travelers with us too.
Whether you want to go to the hotel, for meetings, or any tourist attractions direct from DXB airport, we are here to provide you the best, luxurious & even cheaper airport chauffeur services to suit your needs and group size, etc.
Dubai Airport Transfer during Covid-19 Virus:
As we all know about current issues and restrictions raised due to Covid-19 virus which changed the world and hardly affected & effecting travel industries. Dubai government is strictly following the Covid distancing rules and highly monitoring passengers, especially at Dubai Airport to reduce the spread of the Corona Virus.
In order to protect the health and safety of our passengers & drivers while Dubai Airport Transfer during the Covid-19 Virus, our vehicles are being sanitized and completely washed by drivers before each Dubai Airport Transfer during the Covid-19 virus pandemic.
We are strictly following up on the rules set up by the Dubai government for Covid-19.
Important info:
– Wearing a mask is mandatory for everyone.
– All vehicles must be sanitized after each journey.
– It is best that all travelers who are entering UAE should have fully vaccinated.
Our company offers both luxury and economic level Dubai Airport Transfer services which meet everyone's needs either they are from elite class or an ordinary and either they are a big group or small.
All chauffeurs are well trained to provide a professional and safe journey throughout your stay in UAE.
Getting ordinary airport taxi or public transportation buses at Dubai airport to reach your hotel or to meeting place is a time consuming and stressful effort, and even you can't reach on time because of huge traffic unless you hire a private Dubai Airport Transfer van or bus in advance to ride you with comfort and style on time.
Dedicated Professional Drivers at Airport
Our professional drivers will make sure your journey is safe and comfortable. We operate 24/7 and you can book online, through email, and even by Whatsapp by not paying even a single pill in advance, you can pay on arrival to the driver by cash.
We provide Airport Transportation by minicab and luxury van with drivers covering all UAE major airports like DXB Airport, Sharjah Airport, and Abu Dhabi Airport.
Book your transfer with us in advance and our professional drivers will promptly take you to your destinations within Dubai or other cities comfortably.
How we Manage Airport Passengers Pickup
The driver will wait at the airport till your flight land and you come out (with no extra waiting charges if the flight gets delayed), the driver will meet, greet and take you and your luggage to the cab and escort you to your destination comfortably.
Whether you are coming to Dubai for a tour, business meeting or to move around Dubai with family, you will receive sophisticated first-class customer service and a comfortable ride starting from Dubai Airport pick up till drop off.
Facts about Dubai Airport 
We all know Dubai International Airport is the busiest airport consist of three Terminals (Terminal 1, Terminal 2, and Terminal 3) which serves more than 65 million plus passengers each year, you will find a huge rush of travelers landing and departing and most of them taking their ride To/From Dubai airport by private airport transfer buses or van to reach on time and hassle-free.
Riding with Big Family or Group at DXB Airport
If you are heading from/to Dubai airport with big family and luggage and need a fast and safe ride, so booking your Dubai airport transfers with us is the best and economic choice and we guarantee you will never regret, our company offer a wide range of fleets options including private 7 to 14 seats minivan and 30 to 50 seats luxurious buses to suit any size of family or group.
Dubai Airport Transportation Options
Dubai airport is the hub for UAE, all major airlines landing and departing through DXB airport and the passengers spreading to their destinations around UAE using different types of Dubai airport transportation options available at the airport.
There are a couple of Dubai airport transport options available to serve passengers from/to the DXB airport.
Dubai Airport Taxi Booking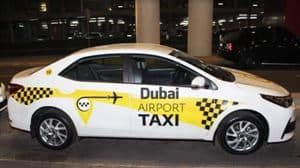 Dubai Airport taxis mostly use by individuals or passengers less than 4 heads with no extra luggage. The DXB airport taxi is one of the cheapest option but somehow stressful as you will need to walk around 20 minutes to reach the taxi stand and wait in queue for some time till your turn come.
Also, finding a Dubai Airport taxi stop is sometimes difficult for new travelers and they could get lost in rush environments.
Indeed riding through Dubai airport taxi is cost-effective but you might not feel comfortable and could feel slightly sweaty smell sometimes as so many different types of people using general taxis each day from one place to another.
Riding by ordinary airport taxi is totally passenger choice, but considering the above facts, we highly recommend pre-booking a private van or bus with a driver for your Dubai Airport Pick & Drop to reach the airport on time, they will greet you, pick up you on time and take you to your hotel, home, and airport with style and comfort.
Airport Transfer Bus
Dubai airport public transport buses manage by RTA and operate day & night in all DXB terminals. All airport transfer reserved buses arrive and depart from their specific stands located outside of each terminal.
Public transport buses are the lowest cost option and suitable for those passengers who knows Dubai very well as there are specific stop and routes of each bus and you will need an additional taxi to reach your exact point after dropping from the bus.
Note: NOL card needed to pay for a bus ride on entry as cash payment method facilities are not available in RTA buses.
Dubai airport is located in heart of the city and the distance to the main city areas is approx 35 km (subjected to your staying location), but because of huge traffic and the static bus routes, the public transport buses takes 60 to 80 minutes to reach the city center areas which is highly time-consuming and headache option.
The general public trans buses are brand new and clean with good AC and you can still ride with enough comfort if you are 2 or 3 people with no luggage and having enough free time as you will have to wait on the bus till the bus depart time setup by RTA.
We don't recommend public buses for DXB airport transfer for big families with enough luggage, having children, and are in hurry to reach their hotel on time safely and conveniently, the best option is to book a chauffeur service in Dubai or private van/bus for convenient and fast transfers.
Transfer by Metro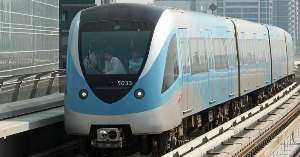 Metro is one of the fastest and cost-effective ways of Dubai airport transportation for you if your hotel is near to any metro station, but if your hotel is far from a metro station then it will be not a good option as you will still need to get a second ride to reach your hotel or home.
The metro operates in Terminal 1 or 3 only and doesn't operate at night. The payment option is either by NOL card or by purchasing a ticket at the metro station before getting to the metro.
Note: One passenger can carry max 2 small pieces of luggage, you will have to walk by your legs once you come out from the airport exit door and wait till the metro depart timing.
Dubai Airport Private Taxi / Buses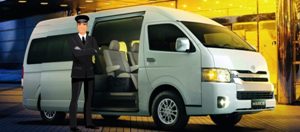 If you are traveling to Dubai or going back home with a big family and kids, and carrying enough luggage and want to catch the flight on time and or want to check in hotel, the smart choice is to book private Dubai airport transfer taxi/buses to get you to your destination on a fast track, safely with comfort and on budget.
Booking a private airport transfer service is a good idea if you are new to Dubai and planned your itinerary of exploring Dubai in a short time.
If you are arranging a group tour with family or friends to Dubai with no advance arrangement of airport ride then it will be quite difficult at the airport to manage your transport using a sharing taxi or public transportation buses at the last minute, it's time-consuming and stressful since you must be tired because of long flight travel.
Booking a private ride in advance will free you from such stress. Let our professional drivers take care of your transportation from the pickup till drop off.
Having booked a private vehicle, you will know the total ride cost of an airport ride including airport parking charges before getting to the car which will enable you to plan according to your budget.
Best choice for Dubai Airport to Abu Dhabi transfer:
Since DXB Airport is the hub to all emirates states, so most travelers landing at Dubai airport and then spreading to other states of UAE, thus we also offer Dubai Airport to Abu Dhabi transport by private vehicles.
Hiring a private vehicle for a long journey like from Dubai Airport to Abu Dhabi Transfer is a great choice for big families and groups as the normal taxi will cost you more and even you will be needing to get many cabs subjected to the size of your group, also there is no direct public bus or metro from the airport straight to Abu Dhabi.
DXB Airport Pick and Drop by Family Van / Bus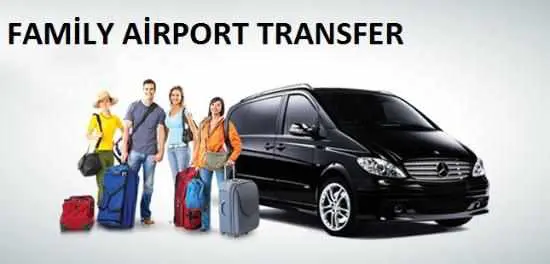 Enjoy the hassle-free ride with us in Dubai Airport by our private Dubai airport pick and drop facilities by luxury van or bus with executive drivers.
Why would you use an ordinary airport taxi or sharing buses or wait for a long time and waste your worthy time for an unfamiliar public transpiration system if you can pre-book online your Dubai airport pick and drop services on a budget from us and with no advance payment?
We have reserved fleets of Minivan and Buses 7 seats, 12 seats, 15 seats, 25 seats, 32 seats, 35 seats, and 50 seats luxury vehicles, especially for DXB Airport Transfer.
Choose any of our luxury private vehicles as per your needs and just Whats-app us for a quote and booking.
Note: Our fleet contains of minimum 7 seats (and we don't have small cars) so kindly contact us only if you need 7 Seats or above vehicles till 50 seats).
How to Book Airport Taxi in Advance?
Why do we prefer advance booking of Dubai Airport Transfer? Because it's the best, stress-free, most convenient, and economic for the large group carrying luggage and kids, and it also enables us to mobilize and schedule your airport transfer pickup accordingly on time, it will indeed help you avoid Dubai high traffic and reach your target destination on a time frame.
Our highly experienced driver will come to any airport terminal according to your ticket and airplane schedule to pick up your luggage safely on time.
Considering time consumption reductions of our valuable customers, we offer fast-track Dubai airport taxi booking services with NO advance payment.
We will be just needed your ticket screenshot and confirmation of booking through Whatsapp, call, or by email to process the booking prior.
The booking process for our private airport transport ride is extremely easy and rapid, just give us a call or Whatsapp and our professional booking staff will respond within a minute with a competitive offer.
Once your booking is done with us, so you will not need to worry about anything and we will take care of the rest, the professional chauffeur will reach on time at the airport to pre-ready for on-time pickup.
Our airport drivers are very cooperative and highly trained, driver will help you carry your luggage and escort you to airport parking where he parked the taxi and will drop you at your booked hotel or at any place within UAE comfortably.
Our airport private taxi facilities are actively available in All UAE-based Airports e.g. DXB Terminal 1, DXB Terminal 2, DXB Terminal 3, Al Maktoum Airport Dubai, Sharjah Airport, and Abu Dhabi Airport.
Why we are the Best Choice?
✅   We are on the list of Top 10 Dubai Airport Transfer services providers in the UAE.
✅   We offering airport pick n drop transport since 2007 with the best services track record.
✅   Earned the best airport transport provider award of the year 2018 (Awarded by Dubai transport authority for the safest ride and hiring professional multi-language spoken drivers).
✅   Advance booking with no advance booking payment (Payment shall be made once the job is completed to the driver by cash by any currency).
✅   Services are available 24/7.
✅   Brand new vehicles with professional drivers (All drivers possess more than 7 years UAE experience).
✅   All drivers are internet active and are using Whatsapp for free and quick communication & coordination with their assigned guests/customers.
✅   Low budget transfers by a luxury ride.
✅   Services available in all UAE-based airports.
✅   Cancellation is free if requested 24 hours prior to transfer time.
✅   Booking can be even done in a swift way (1 hour before DXB airport pickup).
Why choose us?
When it comes to selecting a transfer from Dubai airport services for a large group, you should book your transfer with well-reputed Dubai-based local companies. Since 2008 in the business of transportation we have earned the trust of local and international tourists by providing a professional, hassle-free, and cost-effective transfer from Dubai airport services.
Below are few considerable points which will lead you to select us as your transport partner.
Luxury and ordinary range of minivan and buses.
Well experienced and trained drivers.
Multi-languages speaking young drivers.
Quick coordination with customers supports team through direct call, Whatsapp, or online chat.
Hassle-free services, drivers can wait at Airport parking until travelers are picked up (with no extra waiting charges if the flight gets delayed).
Exclusive transfer (no sharing).
Fast track booking facilities through an online form, Whatsapp, or phone call.
No advance booking payment, payment on arrival by any currency to the driver.
FAQs
How much is a taxi from Dubai Airport to Abu Dhabi?
The cost of private taxi from Dubai to Abu Dhabi city subjected to which Airport are you arriving, either its Terminal 1 , Terminal 2 , Terminal 3 or Al Maktom International Airport.
Also it depend on which vehicle have you booked with us.
Considering competition in transport business we are minimizing our Airport transfer rates regularly, Thus we have reduce our prices. Our Dubai airport transfer to Abu Dhabi city areas 1 way cost start from 550 AED exempt airport parking charges for 7 seats vehicles.
The rates may vary and depend on how many seats vehicle have you booked with us.
Note: We offer Airport transfer services by minimum 7 seats Minivan with drivers till 50 seats luxury buses. Each vehicle airport transfer rates are different than each other. (We don't provide Transfer by small cars, like cars etc)
Is it easy to get a taxi from DXB airport?
Dubai is highly developed country in terms of transportation and Dubai government paying high attention to transport system, thus getting Airport taxi is extremely easy, even by one whatsapp or call you can have your private ride within 30 minutes max.
Should you are less people like less than 4 passengers with 1 or 2 luggage so the best and easy option is to get Govt airport taxi parked near around each terminal exit, else if you are with a large group with more luggage so the best and easy option is to get van taxi from transport companies like us AALI Bus Rental.
How much is a taxi to Dubai Airport?
Either you are in need of taxi from Dubai airport to hotel or from hotel to Dubai Airport Transfer, our company offer economic taxi to airport services.
The taxi fare is subjected to which vehicle you want to book and that depend on the number of passengers and luggage.
Small public taxi like 4 seats cost start from 25 AED from/to DXB airport and the extra cost will be calculated per km. (Note: We don't offer small taxi like 4 seater as we possess big vehicles.
We offer minimum 7 seats van which cost start from 450 AED from any place within Dubai to DXB Airport drop off or Airport to Dubai hotel drop off) and for big private van or buses like 14 seats, 25 seats, 33 seats, 35 seats and 50 seater luxury buses cost are a bit high.
What is Dubai airport parking cost?
Dubai Airport comprised of total 3 terminals (DXB T1, DXB T2 and DXB T3)
The cost of Dubai airport parking charges of Terminal 1 and Terminal 2 (Parking B) are 40 AED per hour, While Parking A is VIP and the cost is high up to 50 USD per hour.
Terminal 3 has no Parking B economic option, There is only one wallet parking (Parking A) which is located just in exit door. The cost of Terminal 3 parking starts from 49 USD per hour for small Vans.
Can we book Airport transfer with Dubai city tour?
Yes, We offer Airport transfer with Dubai City Tour transport on budget rates, If you book Airport transfer with Dubai city tour, so than additional Airport transfer cost will not be added (only airport parking charges will be added)