30 Seater Coaster Bus Rental in Dubai – Coaster Bus Rental Dubai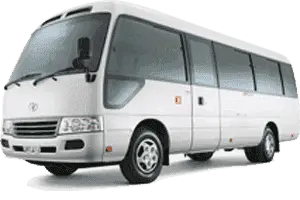 30 Seats Coaster Bus Rental in Dubai and Sharjah
Are you looking for a 30 Seats Coaster Bus Rental in Dubai or Sharjah – Coaster Bus Rental Dubai on daily basis services for a day trip or family transport? if yes, so you are in right place, we offer low rates Coaster bus rental services with drivers all over UAE.
About 30 Seats Coaster Bus Rental in Dubai – Coaster Minibus Rental in Sharjah: With room for 29 passengers with one reserve seat for the driver, 5 seats are fold-able in middle, this vehicle can carry up to 10 small pieces of luggage and one of the perfect choices for DXB airport transfer for a large family.
The 30 Seats Coaster air-conditioned bus is the perfect vehicle for transporting a larger group of people more than 16 passengers.
30 Seats Coaster Bus Rental in Dubai or Coaster Bus Rental in Dubai with a driver is the best choice for big families who want to have a gathering fun ride while traveling inside UAE for a day trip.
These types of coaster buses may vary in specification but all buses include perfect air-con, open spaces for legs, sliding windows glasses, high roof, etc. In addition, all Toyota coaster buses do have some form of entertainment (AUX and sound system).
If the customers have any doable requests please raise at while booking and our professional staff of 30 Seater Coaster Bus Rental in Dubai – Sharjah- Coaster Bus Rental in Dubai Branch will try their best to accommodate your worthy request.
We strongly suggest hiring Coaster Bus 30 Seater or 30 Seats bus for long or short transfers like to and from hotel in Dubai or Sharjah, shopping transport in Dubai, companies staff transfer, wedding transfer, events transfer, play stadiums, and any other desired destination to travel in UAE and for a long-distance ride like Abu Dhabi city tour from Dubai.
If you are looking for a short or long transfer within UAE or seeking to have sightseeing transport so 30 seat coaster bus is the best choice among other buses which can carry up to 29 passengers with enough room for passenger's legs.
Apart from it if you need also to have a large family transport bus for more than 1 day, for a week or so, we recommend hiring Coaster bus 30 seats to enjoy your ride with great comfort with your family.
Coaster Bus Rental in Dubai
Get connect us for 30 Seater Coaster Bus Rental in Dubai with the driver deals and book it at affordable rates from us, and enjoy an amazing ride with family or friends around UAE for a day trip or weekend trips.
Book Coaster Bus for Airport Pick & Drop
If you are coming to Dubai with a big group or family and having enough luggage, then book a Toyota coaster bus for DXB Airport transportation in advance to reach your hotel safely and comfortably on time with no tension about carrying your luggage and kids at the airport long route to taxi parking. Book your airport ride with us and let our driver escort you to our airport bus and take you to your destination stress-free.
For renting a Toyota coaster bus with driver and bus rental rates inquiry please follow the below links:
Book 30 Seater Coaster Bus With Driver (Click Here)
Coaster Bus 30 Seats Rental Rates (Click Here)
16 to 29 Passengers, 8 Baggage, 2 Doors, Great Sound System,  Air Conditioning, AUX, Seats Belts, Gasoline, Folding Door

AALI Transport and Bus Rental Dubai LLC is The Leading Transportation Company & Best Bus Rental Company in Dubai, Sharjah & Abu Dhabi  UAE.
We Offers a Premium Vehicles Renting Service in Dubai For Picnic &  Parties Transport , Guest Transport , Family & Friends Transport , Events Transport , Airport Transfer , City Tour Transport, Hotel Transport, Group Passenger Pick n Drop, Sightseeing Transport etc.
We Have All Types Of Luxury Minivan and Buses with Drivers Rental Services On Daily & Weekly Bases All Over UAE.