Van Rental Dubai
Trying to find the best van rental Dubai or Sharjah based company to get low-cost luxury private transport services with experienced drivers on a budget? You have clicked on the right place.
Whether you are looking for great pricing, new vehicles, quality & safe ride, or a reliable & highly recommended van rental agency, we're confident you will find our services that will match your needs.
We're professional transportation & private minivan rental company managed by an expert team – meaning that you don't need to worry about your safety, budget, itinerary, and ride.
We've served both small & large groups throughout our history and have a deep understanding of your transport needs thus offering economic & luxury both rent van with driver Dubai & Sharjah facilities.
Our transportation company provides van rental Dubai with driver services which suit the needs of all customers, whether they are tourists, family with kids, big or small group.
Traveling around UAE by private rented van compared taxi or sharing buses is much easier & comfortable especially when you are with family/group and going for a city tour or long journey.
Hassle-Free Transfer:
You can stop anywhere you want with no hassle; you can go anywhere you want with no worries about fuel consumption, Toll / Salik charges, or even kilometers limit.
Hiring luxury van in Dubai from us will give you a great traveling experience and you will appreciate every minute of your ride with us.
Daily Basis Van Hire with Driver:
From us you can rent van in Dubai or Sharjah with a diver on a daily or weekly basis by one click online through our booking portal, we possess a wide range of modern fleets which comprise of Minivan and Buses starting from 7 seats capacity to 50 seats which will surely fulfill your group size needs in the most appropriate way.
Get premium quality conveyance facilities for city-to-city excursions, business meeting transport, overnight trips, and shopping transportation, etc.
The friendly customer service & dedicated team will help you in getting the most suitable rent van with driver services matching your needs & budget to make your traveling experience great and unique whether it's a family trip, picnic trip, wedding transport, events, sightseeing, and or birthday party transport, etc.
Wide Range of Luxury Van Available:
Choose your required vehicle in our van rental Dubai fleet list and reserved the van with expert drivers for a day-long trip or even book it for a week or more.
Below listed are the vehicles types and models we have in our private van rental section in Dubai and Sharjah offices:
9 Seater Van Rental Dubai
9 Seater van is the best choice for family or group having max 2 or 3 luggage and contain up to 7 pax maximum.
Because of the small size interior, these kinds of 9 Seater van are a bit narrow and thus some families having kids don't prefer hiring 9 seats van.
However, the selection of 9 seats van rental Dubai with driver is subjected to customer's choice, needs, and budget.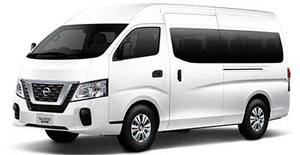 12 Seats Minivan
12 seating capacity Minivan is called Toyota Hiace van, which consists of 12 seats total with one seat for the driver.
12 Seating capacity Van rental in Dubai is one of the economic and best ways of transportation for travelers or families containing max 11 pax, in this type of van you can accommodate a few small pieces of luggage too just beneath any seats.
15 Seats High Roof Van
The most demanding vehicle in UAE for a day trip or weekly basis van rental with driver in Dubai or Sharjah for guest transportation, 15 seats van is called Toyota High roof, the roof is 8 feet up than foot keeping level and because the high roof and interior wide spacing make this kind of van more popular than normal Hiace van among travelers.
Show More
25 Seats Minivan or Minibus
Hiring a Toyota Coaster van with a capacity of 25 seats with a driver is the perfect transportation solution for a group that needs a huge space for kids and luggage and the number of people is up to 25 heads.
If you are a large group and in need of a hassle-free and stress-free transport option then go for a private van rental in Dubai with driver services and reach your destination comfortably.
Van Rent in Sharjah & Abu Dhabi with Driver
Make your trip as comfortable as possible by getting van rental Sharjah services.
The van rental service we offer is not just limited to Dubai, we also offer Van Rental Sharjah & Van Rental Abu Dhabi Services with more than 20 reserved vehicles in each city offices with drivers.
Show More
Van Hire Dubai Airport
Either you are arriving or departing at Dubai airport, no matter how many people you are and in need of a comfortable and hassle-free ride then book a van hire in Dubai airport services even 30 minutes prior and get your airport transfer van at your pickup point on time.
We offer rent vans with driver services in all major UAE airports i.e. DXB airport all terminals, Sharjah and Abu Dhabi airports.
Show More
You Can Trust us
Being in the business of ground transportation since 2007 we earned an excellent experience from transporting different type of people from different countries and we properly understand their needs and standard.
Why choose us?
Having more than a decade of experience in private basis van rental with drivers in the UAE.
Our brand new vehicles come with all the safety and modern needs features.
Hiring van with a driver from us will eliminate the tenstion about fuel/gas consumption, Toll/ Salik, or any travel limit, it will be already included, exempt overtime if happen.
Our company has always been very choosy about selecting drivers, we hired well educated, young and energetic & experienced drivers.
For booking, you don't need to pay in advance and shall pay on 1st day to the driver.
Instant booking policy, just WhatsApp, Email or Call us and advise your itinerary and reserve your minivan with driver accordingly.
Online booking 24/7 facilities.
Wide range of modern fleets available from 9 seating capacity to 50 seats.