Van Rental Dubai
Are you in search of the finest van rental Dubai services? Look no further. We offer a premium van rental selection with driver options that combine luxury, affordability, and experienced drivers. Your journey to exceptional private transport solutions starts right here.
Whether you're looking for competitive van rental pricing, state-of-the-art vehicles, a secure and comfortable ride, or a reputable van rental agency, we are confident that our van and minivan rental Dubai services are perfectly tailored to your needs.
As experts in professional transportation and private minivan rental services, our skilled team ensures that you don't have to worry about safety, budget considerations, travel itineraries, or the overall experience. With a rich history of serving small and large groups of tourists and families, we understand your varied transportation requirements, making us your go-to choice for economical and luxury van rental services with a driver in Dubai, Abu Dhabi, and Sharjah.
Why Choose Our Van Rental with Driver Services in Dubai? 
When it comes to van rental in Dubai, Sharjah or Van rental Abu Dhabi, we stand out for several reasons:
Affordable Rates: Competitive pricing without compromising on quality.
Experienced Drivers: Our chauffeurs are trained professionals who prioritize your safety.
Luxury Fleet: State-of-the-art vans equipped with modern amenities.
Flexible Packages: Daily, weekly, and custom van rental packages available.
Types of Minivan and Vans We Offer
We offer a diverse range of vans to suit your specific needs:
Minivans: (7 Seats, 8 Seats, KIA Carnival, Toyota Previa, Mercedeze, Hyndai H1, Granvia, SUV) Perfect for small families and groups, accommodating up to 6 people.
Standard Vans: (10 Seats, 12 Seats, 14 Seats and 15 Seats, Toyota Hiace, Highroof, Midroof) Ideal for medium-sized groups, with seating for up to 15 people.
Luxury Vans: (7 Seats to 16 Seats) For those who desire a touch of sophistication, our luxury vans are the perfect choice.
Buses and Minibuses: Ideal for big groups
Buses and Minibuses: ( 20 Seats, 25 Seats, 30 Seats, 35 Seats and 50 seats Luxury bus, Toyota Coaster, Mitsubishi Rosa, Yutang, Foton, Higer Buses) For larger gatherings or corporate events, our bus rental options offer spacious seating for up to 50 people.
7 Seater Van Rental Dubai
Ideal for small families or groups, the 7 seats car or van (Kia Carnival or Previa) offers a budget-friendly ride with an efficient AC system for Dubai's hot climate. While space might be snug, especially for families with kids, it's perfect for airport transfers, city tours, and shopping trips. The compact size makes it an economical choice, ensuring comfort and convenience, all packed in a vehicle that's easy to navigate through the vibrant city streets.
9 Seats & 10 Seats Minivan
The 9 and 10 seats minivan Hyundai H1 is your go-to for a comfortable, economical journey, perfect for medium-sized groups heading out for city sightseeing or events, airport, wedding or hotel transports. Equipped with comfortable seats and a great AC system, it ensures a pleasant ride, be it a short commute or a long-distance trip. Its versatility makes it a top choice for various outings, guaranteeing a luxurious experience without breaking the bank. For more info booking head to 9 seats or 10 seats minivan rental in Dubai
12 Seats Minivan
12 seats minivan is suitable for larger groups, the 12 seats Toyota Hiace van promises a comfortable journey with a touch of luxury. Ideal for event transport or sightseeing, this van accommodates up to 11 passengers with a space-saving option for luggage storage. Its efficient AC system guarantees a cool ride amidst the Dubai heat, offering an economical yet luxurious transport solution for families and groups planning to explore the vibrant locales. For booking and more details visit 12 seats van rent Dubai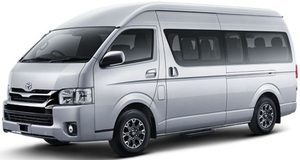 14 & 15 Seats Van
Experience comfort and luxury with the 14 seat van or 15 seats Toyota Highroof van, preferred for guest transport and long-distance journeys in the UAE. Its spacious interior and high roof allow freedom of movement, making it popular for city tours and tourist transport. Enjoy a pleasant journey with comfortable seating, wheelchair accessible van, and a powerful AC system, ensuring a luxury ride that combines style and convenience for every group outing. For more details and booking visit 15 seats van rental Dubai
25 Seats & 30 Seats Minibus
For large groups seeking comfort and luxury, the 25 seats minibus and 30 seat Coaster minibus stands as the top choice. With ample space for kids and luggage, this vehicle promises a delightful journey for tourists, family outings and city tours. The luxurious interior, coupled with a robust AC & sound system, provides a refuge from the hot climate, offering a relaxed, comfortable ride, making your group travels in Dubai UAE a memorable experience.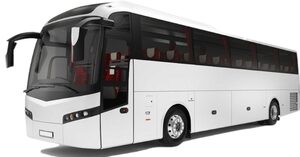 35 & 33 Seats Luxury MiniBus
Indulge in elegance with the 33 Seats or 35 seat luxury bus, perfect for large groups planning city tours, player transfers, wedding & events transport, etc. This bus boasts a classy interior, separate luggage cabin, excellent AC system, and comfortable incline/decline seats, offering a cool, luxury ride in the hot climate. Choose this for a stress-free luxury transport solution, ensuring every journey is as splendid as your destination, promising a delightful experience for guests and tourist transports alike.
Convenient Daily and Weekly Van Rental Services
Understanding the dynamic needs of our customers, we offer both daily and weekly van rental services in Sharjah, Abu Dhabi and Dubai. Whether you're in Dubai or any other city of UAE for a short business trip or an extended family vacation, our flexible rent a van with driver packages are designed to accommodate your schedule. Opt for a daily van rental if you have a specific day-long event or activity, such as a corporate meeting, event or a day out exploring Dubai's, Abu Dhabi or other UAE cities landmarks. If you're planning a longer stay, our weekly van rental with driver options provide the convenience of uninterrupted service, allowing you to explore Dubai, Sharjah, Abu Dhabi and other states of United Arab Emirate at your own pace. With both daily and weekly van rental options, you can enjoy the freedom to customize your travel plans without the hassle of frequent bookings.
Your Go-To Transport Service for All Occasions
At our van rental agency, we understand that Dubai offers a plethora of activities and events for residents and tourists alike. That's why our van rental Dubai services extend beyond just transportation; they are designed to enhance your experience in this vibrant city. Whether you're planning a city tour, airport transfers, events transport, corporate travel, guest transport, or group adventures, we seamlessly blend luxury, convenience, and affordability to ensure every journey is a chapter filled with unforgettable memories.
Moreover, our luxury van rental Dubai services add an extra touch of sophistication to your special occasions. From weddings to corporate gatherings, our luxury vans will make sure your guests arrive in style, setting the tone for an extraordinary event. With our versatile private transportation solutions, we are here to make every experience in Dubai exceptional.
Transparent Pricing and Packages
We believe in complete transparency when it comes to van rental Dubai rates. Whether you're looking to hire a van with a driver for a day or need a weekly rental, our packages are designed to offer you the best value for your money.
Expert Drivers at Your Service: Chauffeur-Driven Van Rental Dubai
Relax and enjoy the journey with our chauffeur driven van rental Dubai services. Our experienced and licensed drivers are dedicated to ensuring your comfort and safety. Sit back, relax, and take in the sights as our experts navigate the roads, free you to immerse yourself in the experience.
Enhancing Your Journey
We believe in going the extra mile to ensure your journey is exceptional. Enhance your ride with optional add-ons like baby carriers, child seats, great sound system, microphone, and GPS devices. Your comfort is our priority, and we're committed to providing a journey that exceeds your expectations.
Who Can Benefit from Our Van Rental Services?
Whether you're a group of tourists, a family visiting Dubai, a business travelers, or a resident of Dubai, Sharjah or Abu Dhabi, our rent a van with driver Dubai services are designed to meet a variety of needs. Here's how different groups can take advantage of our offerings:
For Tourists
Sightseeing and Hotel Transfers: Explore Dubai's iconic landmarks and move between your hotel and attractions effortlessly.
Airport Transfers: Start your vacation smoothly with our reliable airport pick-up and drop-off services.
Shopping Excursions: Plan a shopping spree and leave the transportation to us.
For Business Travelers
Corporate and Client Transportation: Make a lasting impression at business events and host your clients with our premium and luxury van services.
Sports Player Transport: Ensure your team arrives at sporting events or practices in comfort and on time.
For Residents
Special Occasions and Wedding Transfers: Celebrate life's milestones like weddings or anniversaries with our spacious and luxurious vans.
Group and Family Outings: Whether planning a day out or needing a spacious van for family visits, our vans offer the comfort and space you need.
Event Transfers: Arrive at concerts or festivals in style and comfort.
For Guests Visiting Residents
City Tours and Family Events: Show your visiting friends and family the best of Dubai with convenient and luxurious transportation options.
For Adventure Seekers
Outdoor Activities: Whether it's a camping trip or a day at the beach, our vans can carry all your essentials.
Rent a Van with Driver in Dubai to Unveil Dubai's Wonders with Comfort
Experience the awe-inspiring attractions of Dubai in unmatched comfort with our van rental services. Our fleet of vehicles, each equipped with modern amenities, provides the perfect platform for discovering Dubai's iconic landmarks, cultural treasures, and captivating experiences. Traveling is more than a journey – it's an experience, and we're here to make it remarkable.
How to Book Your Van Rental in Dubai
Booking a van with us is as easy as 1-2-3:
Visit Our Website: Head over to our online booking section.
Choose Your Van: Select the type of van that suits your needs from our vehicles fleet list.
Confirm Booking: Fill in your details in contact form or simply Whatsapp or email us your details and confirm your van booking. It's that simple!
Book a Van with a Driver Today
Whether you're a resident or a visitor, our rent a van with driver services cater to all your transportation needs. Choose comfort, convenience, luxury, and quality as you explore Dubai and beyond. Whether it's a minivan or van hire for a family or guests transport in Dubai, an airport transfer, sightseeing transport, wedding or event transportation, our team is ready to make your journey unforgettable.
Connect us, book a van rental Dubai today, and embark on an extraordinary adventure.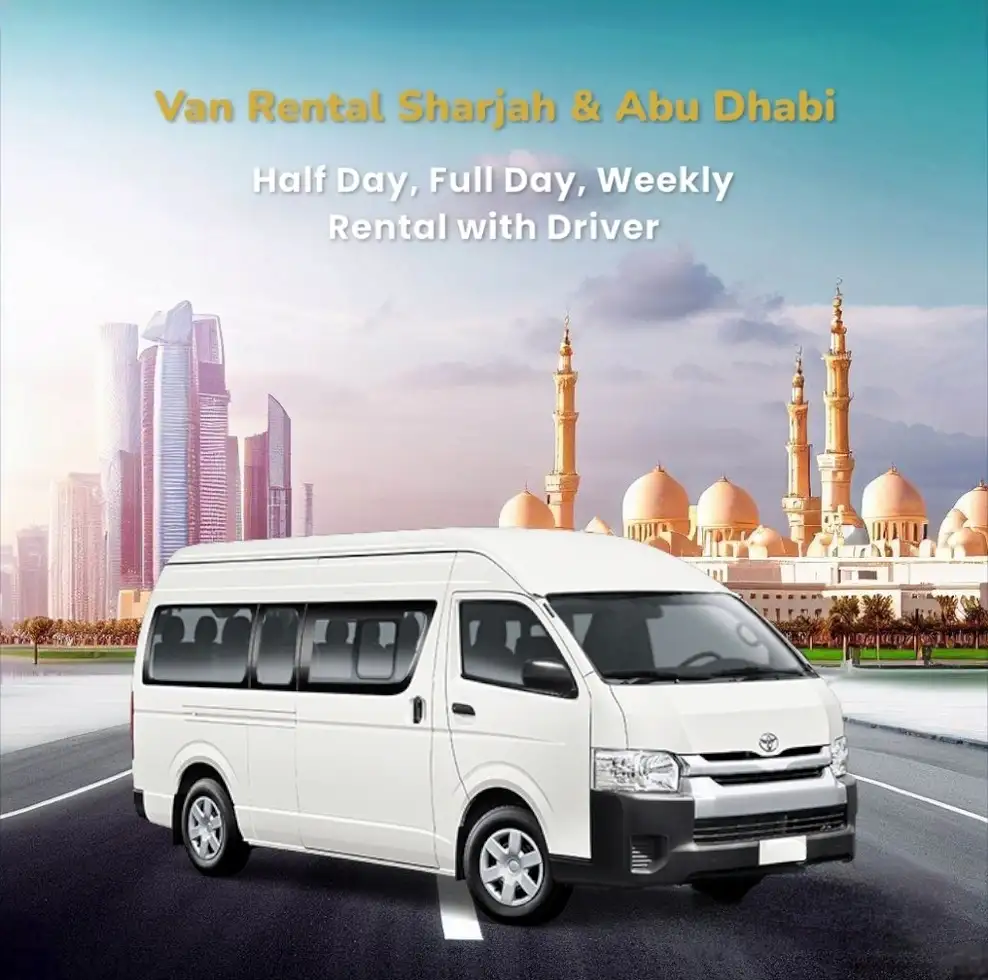 Van Rental Sharjah and Abu Dhabi
Renting a van in Sharjah or Abu Dhabi has never been more comfortable. Our dedicated offices in these cities ensure that wherever you are, quick and reliable van rental services are just a few minutes away.
Our van rental Sharjah services stand as a beacon of reliability and convenience. With a fleet of more than 30 vans stationed at strategic locations, accompanied by skilled drivers, we bring ease and comfort to your travel plans. Whether you are staying in any hotel or any other area in Sharjah, our team is prepared to provide swift transportation services, making your travel endeavors smoother and hassle-free.
Similarly, our van rental Abu Dhabi services offer unparalleled convenience to both residents and visitors alike. Our Abu Dhabi local office is equipped with more than 30 vans with experienced drivers ready to serve your transportation needs 24/7. We are committed to providing an exceptional service that perfectly integrates with your lifestyle in Abu Dhabi, ensuring your journeys are comfortable and enjoyable.
With our extensive network, we are always nearby, ready to assist with your travels within or between these bustling cities. Our commitment to excellence means you are choosing a partner that prioritizes your comfort and convenience, offering a friendly and personalized touch that stands apart in the industry.
So, when planning your next outing, business trip, or adventure and you are staying in Sharjah or Abu Dhabi, remember that our van rental services are right around the corner, committed to making your travels a delightful experience.
Van Hire Dubai Airport
Initiate a seamless journey with our premier Dubai Airport transfer services. Whether you're just landing or gearing up to leave the vibrant city of Dubai, our Van Hire Dubai Airport service stands ready to ensure a smooth and convenient transfer, even with last-minute bookings as close as 30 minutes before your required pickup time.
Our prompt and reliable services extend across all major UAE airports, encompassing all DXB terminals, and also cover Sharjah and Abu Dhabi airports. Available around the clock, our fleet of top-branded passenger vans and buses is set to accommodate your every need, providing a comfortable and stylish solution for your DXB Airport van rental requirements.
To easily navigate Dubai's bustling traffic, it's advisable to plan your airport transfers ahead of time. That's where our service comes in handy, allowing you to hire a van at DXB airport well in advance. This way, you can start or conclude your Dubai trip on a relaxed note, free of stress. Our courteous drivers are trained to meet and greet you at the airport, ensuring a comfortable escort to your destination, be it a hotel or another locale.
Experience the comfort and affordability that our extensive selection of passenger vans has to offer. We pride ourselves on offering competitive rates, facilitating a cost-effective yet quality van rent at Dubai Airport. As we value your time immensely, we guarantee that your chosen van will arrive earlier than expected at your pickup point, making your journey to and from the DXB airport both timely and pleasurable.
Van Hire for Family and Guest Transport
Experience comfort and convenience with our specialized guest and family transport van rental services in Dubai, Sharjah, and Abu Dhabi. We understand the importance of creating unforgettable experiences for family trips and welcoming guests from around the world. Whether you're a family eager to explore the UAE any city, or a group of tourists on holidays here to shop, attend events, or celebrate a wedding, we've covered your transportation needs in Dubai, UAE.
Our expertise lies in guest and family transport services, providing the flexibility to rent our family transport van or guest transport van for various purposes. Whether you're planning a short jaunt to a shopping mall, a visit to a park or tourist attraction, or require a family van for a day or even an entire week, our seasoned drivers are committed to ensuring your comfort and punctuality.
Moreover, if you're hosting visiting family members, our services are tailored to create a seamless journey for them. Alternatively, if you're a family visiting Dubai and seeking a stress-free city exploration, consider renting a family van from us. Our experienced drivers will expertly guide you through the vibrant sights and sounds of Dubai and other cities of the UAE, ensuring a hassle-free experience.
Choose us for a stress-free and enjoyable experience in the UAE, and let us elevate your family and guest transport services in Dubai to a whole new level.
You Can Trust us
Being in the business of ground transportation since 2007 we earned an excellent experience from transporting different type of people from different countries and we properly understand their needs and standard.
Why choose us?
Having more than a decade of experience in private basis van rental with drivers in the UAE.
Our brand new vehicles come with all the safety and modern needs features.
Hiring van with a driver from us will eliminate the tenstion about fuel/gas consumption, Toll/ Salik, or any travel limit, it will be already included, exempt overtime if happen.
Our company has always been very choosy about selecting drivers, we hired well educated, young and energetic & experienced drivers.
For booking, you don't need to pay in advance and shall pay on 1st day to the driver.
Instant booking policy, just WhatsApp, Email or Call us and advise your itinerary and reserve your minivan with driver accordingly.
Online booking 24/7 facilities.
Wide range of modern fleets available from 9 seating capacity to 50 seats.
Why Rent a Van with a Driver in Dubai?
Hiring a van with a skilled driver in Dubai ensures:
Experienced drivers know the city and routes well for smooth journeys
No need to worry about driving or navigation
Drivers handle parking, tolls, and refueling during rental
Knowledgeable chauffeurs double up as tour guides
Drivers communicate in English and other languages
How much does a van rental cost in Dubai?
The pricing for van rentals in Dubai can vary, influenced by factors like the rental period, the van's make and model, and current market conditions. To get detailed pricing information, we recommend visiting our website or reaching out to our customer service for assistance.
What type of vehicle insurance is provided?
All our rental vans are covered by comprehensive insurance in accordance with UAE law, ensuring a worry-free journey for our passengers. Since we provide rental services with a driver, any damages or mishaps during the rental period are not a liability for the passengers. Our company bears the responsibility and the associated costs, prioritizing your safety and peace of mind during your rental experience with us.
Do you provide a van with a driver only or it can be hired without a driver too?
We specialize in providing a seamless rental experience by offering vans accompanied by professional drivers only. Currently, we do not offer the option to rent vans without a driver. This policy ensures the safety and well-being of our clients, allowing them to enjoy a hassle-free and comfortable journey throughout their rental period with us.
Can the vans be rented for sightseeing tours?
Absolutely, our vans can be rented for sightseeing tours. In fact, this is one of the primary services that our company offers. When you rent a van from us, you are not just renting a vehicle but a complete experience.
Our professional drivers possess over 5 years of experience touring around the UAE's major cities and will be at your service. They are well-acquainted with all the tourist attractions across various cities, including Dubai, Abu Dhabi, and Hatta. Fluent in multiple languages such as English, Hindi, Arabic, and Urdu, they can also guide you during the tour, offering insights and information about different places.
One of the standout features of our service is the private basis of the tours. This means you can schedule your choice itinerary, visiting the places you want at your own pace. Our drivers will take you to your desired destinations comfortably, allowing you to explore the beauty and attractions of the UAE without any hassle.
Moreover, you don't have to worry about kilometer limits, parking, or toll (Salik) fees, making your sightseeing tour a stress-free and enjoyable experience. This personalized service ensures you can explore the UAE in comfort and style.
What are the payment options available?
Cash: You can pay in cash directly to the driver or at our office on the date of the service. COD method.
Bank Transfer: We accept payments through bank transfers. The necessary details for the transfer will be provided upon request.
PayPal: For a secure and quick online payment, you can opt to pay via PayPal. This option facilitates easy transactions and instant confirmations.
We aim to provide flexible payment options to suit your preferences and ensure a smooth and hassle-free transaction process. Please let us know if you have any other preferred payment method, and we will try our best to accommodate it.
What is the van rental cancellation policy?
We understand that plans can change, and we strive to offer flexible cancellation options to accommodate our clients' needs. Here is our cancellation policy:
Free Cancellation: If you need to cancel your booking, you can do so without any charges if the cancellation is made 2 or more days before the service date. This allows you to plan your trip with more flexibility and peace of mind.
Cancellation on the Service Date: If the booking is canceled on the service date, a cancellation fee of 50% of the service charge will be applied. This is to cover the preparations and arrangements that would have been made for your booking.
We hope this policy provides a balanced approach to accommodating changes in plans while maintaining the readiness and quality of our services. Feel free to contact us if you have any further questions or specific requests regarding cancellations.
Can I specify pick-up and drop-off locations?
Our service is designed to offer you the utmost convenience and flexibility. Since it's a private van rental service accompanied by a driver, everything is tailored to your preferences. You can specify your pick-up location, be it a hotel, the airport, or any Dubai, Abu Dhabi, or Sharjah residence. Moreover, you can also determine the pick-up time that suits you best.
We pride ourselves on our flexibility; you can modify your pick-up location and time up to 2 hours before the service starts without hassle. Rest assured, based on the details you provide, our driver will be at your doorstep punctually, ready to assist you and ensure a smooth and comfortable journey. Our goal is to provide a service that meets your needs precisely, offering a personalized and seamless experience from start to finish.
Are there any mileage restrictions?
We aim to offer a service that is as unrestricted as possible. When you hire a van with a driver on a private basis, it is reserved exclusively for you, meaning there are no mileage restrictions within the city you have booked for. You can explore any area within the city at your leisure; the driver will wait for you at each stop, ready to take you to your next destination.
However, it's important to note that the rate is determined per city. For instance, if you book a van for travel within Dubai city, you can visit any location within Dubai, but travel to other cities would not be covered under the same booking. Similarly, if you book a van to visit Abu Dhabi, you can explore any area within Abu Dhabi but not venture to other cities.
If you wish to visit more than one city on any day during your rental period, we ask that you inform us in advance so we can provide a quote and arrange the service accordingly. This way, we can ensure that your travel plans are met with the utmost convenience and customization, allowing you to enjoy a seamless and expansive travel experience.
Is renting a van cheaper than taxi or car in Dubai?
Choosing the best transportation option in the UAE depends on your group size and the trip you plan. Here, we break down the options for you:
Option 1: Taxi
Choosing a taxi is a convenient option for groups of 4 or fewer people embarking on short journeys. Taxis are generally easy to find for quick city rides. However, there are several drawbacks to this option. The meter countdown can often induce stress, especially during waiting times as the meter continues to tick. Additionally, you might sometimes find yourself waiting for a taxi under the scorching sun, which can be quite unpleasant. Moreover, for long-distance rides and larger groups or families requiring full-day transportation, sightseeing, or multi-day hire, van rental with a driver proves to be a cheaper and more comfortable alternative compared to taxis.
Option 2: Car Rental
If you prefer the autonomy of driving yourself around, car rental might be your option, allowing you to explore at your leisure. However, this choice comes with its own set of challenges. You'll be responsible for fuel costs, parking fees, and toll charges, which can quickly add up, especially during longer trips. Furthermore, any accidents or damages to the car will be your financial responsibility, potentially leading to substantial costs. In comparison, van rental with a driver emerges as a more economical choice, offering a hassle-free experience without the concerns of additional costs associated with car rentals.
Option 3: Van Rental with Driver
For Large Groups: Renting a van with a driver is the best and most economical choice for large families or groups consisting of more than 4 people. This option is advantageous for sightseeing, family outings, or tourist groups keen on visiting numerous attractions or shopping malls, including transfers from Dubai to Abu Dhabi. It offers a relaxed and enjoyable travel experience, standing out as a superior choice compared to taxis or car rentals, especially for long-distance rides and full-day or multi-day hires.
For Smaller Groups: Even for smaller groups, van rental with a driver remains a premium option, particularly for longer distances or travels between cities, including Dubai to other cities transfers. It ensures a comfortable, spacious, and stress-free journey, providing great value for money and the convenience of personalizing your schedule. It makes it a more economical and enjoyable choice than taxis or car rentals for a comprehensive and delightful UAE experience.
Q: How much is rent a van with driver in Dubai?
The cost of renting a van in Dubai can vary significantly based on a variety of factors, making it somewhat challenging to pinpoint an exact figure without considering the specifics of your rental needs. Generally speaking, the starting price for van rentals in Dubai ranges from 599 AED to 1200+ AED, but this can fluctuate depending on several determinants. Here are some of the key factors that influence the rental cost:
Size of the Vehicle: Different vans have different seating capacities. The van rental cost can vary depending on whether you are looking for a compact van for a small group or a larger one to accommodate more people.
Duration of Rental: The length of time you wish to rent the van also plays a significant role in determining the cost. Typically, you might find that renting for a longer period could potentially offer better value for money.
Type of Van: Various vans come with different sets of amenities and features. Luxury vans equipped with high-end amenities might cost more compared to standard vans.
Distance Covered: The total distance you plan to cover during your rental period and pick and drop locations can also affect the van rental Dubai cost. Some rental companies might offer unlimited mileage, while others may have a per-kilometre charge beyond a certain limit.
Seasonal Demand: Like any other service, van rental prices can be influenced by the demand during a particular season. You might find that prices are higher during peak tourist seasons than off-peak periods.
It's always recommended to contact the rental company to get a precise quote based on your specific requirements. Remember, renting a van in Dubai is not just about finding the cheapest option but the one that offers the best value for your money, ensuring a comfortable, safe, and enjoyable journey.
For more information or to get a customized van rental quote, feel free to contact us. We are here to assist you in finding the best van rental option that suits your needs and budget.

Experience luxury transportation at its finest with Bus Rental Dubai – the leading transportation & bus rental company in Dubai, Sharjah, and Abu Dhabi. From airport transfers to city tours, guest transport to event transportation, we have the perfect vehicle for all your needs.
Our premium fleet includes a variety of luxury minivans and buses, all available for daily and weekly rental with experienced drivers. Make your next event or trip unforgettable with Bus Rental Dubai.
COMPANY INFORMATION
Add: Business Bay Dubai & Rolla Sharjah