Chauffeur Services in Dubai
We have been in the business of private transportation for more than 15 years in UAE.
Over the years, we have been well established and gained professional experience in providing the best and economic Chauffeur Services in Dubai and other cities of UAE.
We provide reliable, hassle-free, comfortable, cost-effective, and high-quality private chauffeur service in all major cities of UAE, e.g., Dubai, Abu Dhabi & Sharjah by private vehicles.
Private Chauffeur Services in Dubai is mostly required by big groups or families with more than five heads to travel comfortably and hassle-free and reach their destination on time.
Our chauffeur drivers are highly trained. All drivers are well English speakers, adequately dressed, and possess strong knowledge of Dubai and other cities routes, each vehicle equipped with the latest GPS models to ensure drivers follow the short directions toward the drop or pickup landmarks of the guests.
Indeed every chauffeur provider company in Dubai trying its best to beat other competitors in providing the top class Dubai chauffeurs facilities. Thus we are highly focused and committed to delivering high-quality chauffeur driven services and leading the race.
By choosing us your private chauffeurs, we assure you that you will get top class services as we equipped with brand new and clean van and buses with perfect AC, sound system, comfortable seats, and glasses curtains on budget rates with executive and expert drivers.
Our chauffeur drivers are not just an ordinary driver; all drivers are undergoing through 30 days professional training program to ensure drivers get well trained in delivering a superior chauffeurs facilities to our customers before getting the chauffer keys.
The client has to feel at home while we drive them as that is not just transportation; it is a journey to enjoy.
We believe customers are always first; our philosophy is to drive passengers is to treat every passenger is that he is a president. We are trying to be as excellent as possible in providing Chauffeur Services in Dubai.
Highlights of Our Services:
Our company is renting luxury private fleets with drivers containing 7 seats minivan, 12 seats van, 15 seats Highroof van, 25 seat Coaster buses, 33 seats Rosa buses, and 50 seats luxury buses, and you can get the right vehicle for your job from our fleet list.
Please note: We do not provide any individual Chauffeur Services in Dubai; our company offers an exclusive vehicle to each group or family with a reserved driver. Also, we don't deal with 4 seat small cars, and our fleet seating capacity starts from a minimum of 7 seats.
Please see below the available fleets and choose the vehicle suits your group size and needs.
What we Offer
AAli Bus Rental and Dubai Chauffeur Services LLC is the first-class private transportation services provider within UAE since 2007 with an excellent track record of customer satisfaction.
We provide our professional chauffeur driven services to tourism companies, event companies, airport transfers, hotel transportation, city sightseeing, weeding transportation and meetings transfers e.t.c. on a daily and weekly basis all over UAE.
The chauffeur services we offer are categorized below.
Dubai to Abu Dhabi Transfer by Private Car / Taxi
Dubai to Abu Dhabi private transfer by car is the most convenient and cost effective choice for big families. The travel time from Dubai to Abu Dhabi Transfer is approx two and half hours by public transportation buses which are indeed a very stressful and headache especially for tourist and a big family with enough luggages, indeed it's the cheapest solution but never convenient and very stressful, and many of you will never choose this option specially for long ride like for Dubai to Abu Dhabi Transfer.
The best solution for Dubai to Abu Dhabi Private Transfer is hiring a taxi, car, bus from Chauffeur Services in Dubai companies, which will get you to your desire destination in a short time with comfort.
 Hiring a minivan or car for Dubai to Abu Dhabi Private Transfer minimizes the travel time to around 1 hour and 30 minutes with no stopover at any place while traveling toward Abu Dhabi, exempt if the guest request driver to stop somewhere.
We provide luxury-level Dubai to Abu Dhabi private transfer by car services with no advance payment paid, just WhatsApp, or call us and advise your pickup location within Dubai or Sharjah and date and time, and you will find the chauffeur in your doorstep accordingly.
The Dubai to Abu Dhabi transfer services is not just limited to one way or two transfer; we also offer full-day Abu Dhabi sightseeing transportation solution on budget rates.
If you are seeking a luxury-level chauffeur service from Dubai to Abu Dhabi with city sightseeing for your family, we are the best choice and can fulfill all your transport needs with the budget.
 Hiring a private taxi for your group is a straight forward solution; the chauffeur will take you door to door to any tourist spot within the city with no hassle.
The main benefit of getting Dubai to Abu Dhabi private taxi transfer for a big group or family is that they have the freedom to customize the itinerary. Just handover the itinerary to the driver, and set back freely, and enjoy talking with the family with no worries about finding the correct routes to reach their destination as the chauffeur will take care accordingly.
Getting a private car, taxi, or chauffeur services to travel and explore the big cities in UAE like Dubai and Abu Dhabi is the easiest and cheaper way, especially if you are new and not familiar to UAE routes and transport rules.
The Chauffeur Services in Dubai offer a wide range of fleets for a long-distance ride like Dubai to Abu Dhabi, which is brand new with a clean interior and expert chauffeur drivers.
Get to Abu Dhabi Airport from Dubai faster and efficiently. You can book Dubai to Abu Dhabi transfer for one way or return transfer by private car or bus on a budget from us since there is no direct connection from Dubai to Abu Dhabi Airport by metro and public transportation buses.
Chauffeur Services in Dubai Airport
Dubai Airport Transportation is the most important and active part of our Dubai Chauffeur Services. The company assigned dedicated experience drivers for airport transfers to ensure the guest reach their destination safely and with comfort.
Dubai is a booming city and famous for high skyscrapers, luxury shopping malls, safe and best living environments, and next-level tourist attractions around the world, making Dubai the paradise of the Middle East.
As the best leisure destination in the world, Dubai attracts millions of tourists each year, and of course, many of these tourists need private Chauffeur Services Dubai Airport, so we come first to provide the private airport transfer facilities.
Since Dubai Airport is the busiest airport that consists of 3 terminals, you will see a massive rush of passengers landing and departing each minute. Most of passengers use private chauffeur services in Dubai to reach the airport on time and pick on time when they arrive.
Indeed public transport buses and taxis are available in Dubai city and for Dubai to Abu Dhabi transfer on a budget, but it is a stressful and time-consuming procedure for fresh travelers and big groups. The recommended choice is to book a private van or bus before departing from your home country so that you can free from transportation headaches.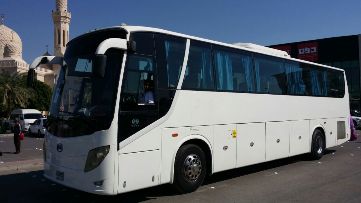 Private Tour by Chauffeur Bus
Chauffeur Services in Dubai widely used for taking passengers from one place to another, airport transportation, Dubai to Abu Dhabi Transfer and hotel transfers. But because of massive traffic in Dubai, most visitors and families choosing chauffeur services in Dubai for sightseeing, recreational pursuits, and shopping as they have a short stay in Dubai and want to explore the attractions on a fast track.
Renting a private chauffeur service for tour purposes or Dubai to Abu Dhabi Transfer is an excellent choice and cost-effective compare ride by ordinary taxi or public transportation buses.
Touring by a self-driven car is a time-consuming and stressful activity, especially if you are new to Dubai and don't know the shortcut routes of Dubai and worried about parking and vehicle security as well as you will never concentrate on sightseeing while driving. Considering your valuable time get back and enjoying sightseeing while you are setting in rear seats relax with family, Chauffeur Services in Dubai for a leisure trip is worth taking from private tourism companies.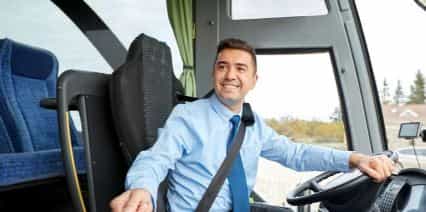 Rent Chauffeur For a Day or Weekly Basis
We have extended our private chauffeur services in Dubai to a daily and weekly basis. Now you can get exclusive private van and or bus with the driver on a daily or weekly basis with budget rates. Renting a private vehicle for a Dubai to Abu Dhabi Private Transfer or full day and or weekly basis is the best choice for those families who are planned to stay for more days in Dubai and love shopping and visiting leisure spots.
The best benefit of private chauffeur services in Dubai is that it is hassle-free and cost-effective. The traveler can customize their choice itinerary of each day as the rates are static and apply on a daily basis; either they go to one place or many places per day, the same prices apply.
Note: The time limit per day is a maximum of 10 hours if the time exceeds 10 hours, overtime will apply accordingly.
How to Book Private Chauffeur in Dubai 
Before processing the booking with us, choose your required vehicle from the list of fleets mentioned above, matching your needs and budget.
No advance payment need for booking. The invoice amount shall be clear at pickup time from your hotel or airport.
Considering the customer's convenience and demands, we don't require the booking person to visit our office and waste their valuable time on paying the advance payment for Chauffeur Services in Dubai. Anyone can secure the reservation by phone call, WhatsApp, and by email anytime by not paying even a single pill in advance either he/she is outside the UAE or inside.
We have the most customer-friendly payment procedure. Once you confirm the booking with us for Dubai Chauffeur Services, we will issue the invoice with full payment details, which shall be paid to the driver at the time of pickup on 1st day either from the airport, hotel, or vials, etc.
We have the most effortless booking procedure. For booking, we only need the dates, first day pickup time and location, and your confirmation of booking through email or WhatsApp.
Get your booking confirmation with chauffeur driver and vehicle details within 10 minutes by email or WhatsApp.
Easy and instant booking.
Why Choose Our Services?
Our fleets contain different types of luxury minivan and buses. The seating capacity starts from 7 seats to 50 seated luxury buses, which mostly fulfill the requirements of our customers/guest needs.
All the drivers are well trained, highly professional, well English, Hindi, Urdu, and Arabic speakers with the great experience of UAE short and long routes.
All our chauffeur vehicles are brand new and clean with perfect AC and contain a separate luggage cabin.
Our company hired highly professional and customer friendly staff, which is available anytime to serve you the best.
Instant assistant facilities: Discuss your needs with one of our sales staff, and he will assist you according to your needs and requirements, which will suit your chauffeur driven services in UAE.
24 hours online and WhatsApp chats services for inquiries and bookings.
All Dubai chauffeur services provider vehicles are fully insured and comply with UAE transportation rules and regulations.
Affordable prices with excellent services.
10 minutes prior chauffeur driver will be at your doorstep and can wait until you come out.
Hassle-free private chauffeur ride.
Customized itinerary subjected to customers' needs.
More than 15 years experience of chauffeur services in Dubai.
24 hours prior to services start time free booking cancellation policy.