Book 7 Seats Car or Minivan with Driver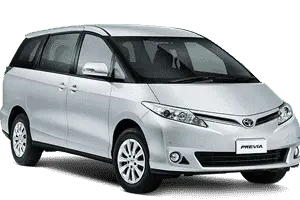 7 Seater Car – 7 Seats Van Rental Services in Dubai, Sharjah
About 7 seat car – rent 7 seater minivan Dubai and Sharjah with driver rental program: With room for 6 passengers and 2 pieces of luggage, this air-conditioned passenger small van is perfect for small groups or small family transportation.
Toyota Previa 7 seats or similar vehicle. A 7 seater van is a great choice if you need to accommodate a group of max 6 people with one or two small pieces of luggage and planing a short or long journey or a day trip for picnic or sightseeing.
Apart from 7 seat car or 7 seater minivan rental Dubai and Sharjah service you can hire our other bus rental services by clicking here.
Renting 7 seat car or 7 seater minivan in Dubai or Sharjah with a driver is the right fleet when you need to get the job done faster in a short time, because of the mini size this vehicle can go faster and can skip traffic sometimes too.
7 seat car or 7 seats Previa minivan is one of the hardest working vehicles in the ground transport industry, many of our valued customers have been choosing Previa car for their small family transportation,  events transport, hotel transfer or Dubai sightseeing, and Abu Dhabi tour
Rent Low Budget 7 Seats Car in Dubai
We offer affordable rates on 7 seat cars or  7 seater minivan rental in Dubai with drivers on daily basis. The 7 Seat car or van usually chosen when someone wants to get activity done rapidly and on the fast track, It gets passengers from one destination to another very fast in a comfortable way and efficiently, and it's even cheaper compared to a meter taxi.
Because of low daily rates, the 7 seater car or 7 seat minivan are mostly used for family transport in Dubai UAE, airport transfers,  functions & exhibitions transport, staff transfer, shuttles services, and transportation of wedding guests to and from venue to their destination.
Hire a 7 Seats Car, Van to Travel with Style
The Previa 7 seats van's model is a great design with a luxurious interior and exterior which is suitable for any kind of transport job if passengers are less than 6 pax.
Renting these fleets in any city of United Arab Emirates is one of the most affordable and stylish options for the small group size, It carries a great balance between complete comfort. Hire a 7 seats van in Dubai and travel with style and comfort.
Get the best deals from us, Book 7 seater car or van with a driver on daily basis in our Dubai and Sharjah branches.
For further info regarding 7 seat car – rent 7 seats minivan Dubai with driver and quick van rental prices inquiry please click on below links.
Book 7 Seats Van with Driver  (Click Here)
6 Passengers, 2 Small pieces of Luggage, 2 front doors, and 1 Slide Door, Full Air Conditioning, Sound System, the best vehicle for Airport transfer, Hotel transfers, Enter city transfer, etc

AALI Transport and Bus Rental Dubai LLC is The Leading Transportation Company & Best Bus Rental Company in Dubai, Sharjah & Abu Dhabi  UAE.
We Offers a Premium Vehicles Renting Service in Dubai For Picnic &  Parties Transport , Guest Transport , Family & Friends Transport , Events Transport , Airport Transfer , City Tour Transport, Hotel Transport, Group Passenger Pick n Drop, Sightseeing Transport etc.
We Have All Types Of Luxury Minivan and Buses with Drivers Rental Services On Daily & Weekly Bases All Over UAE.
.