15 Seats Highroof Minivan or Minibus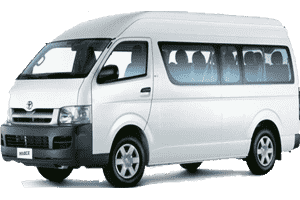 15 Seater Minivan Rental Dubai, 14 Seater Van Rental
15 Seater Passenger Minivan Dubai Rental – 14 Seater Van in Sharjah rental Services. These vehicle room for 14 passengers with one seat for driver and 6 pieces of luggage, this spacious, air-conditioned automatic passenger van is perfect for larger families or groups looking to arrive at their destination in comfort. 15 Seater Minivan Rental Dubai is very famous for Family transport, Weeding transport, Picnic and parties transport and city tours.
Should you need Marriage Transportation for guests, Airport Transfer or Family Transport and or Tour Dubai or Abu Dhabi: 15 Seater Passenger Minivan Dubai Rental – 14 Seater Van rental with driver will be a great choice as well as affordable.
AALI Van Rental Dubai has good experience in offering transport solution and van rental in Dubai and Sharjah UAE. Our van rental Dubai branch is a top choice in renting 15 Seater Highroof Minivan with drivers in all over UAE.
15 seater passenger minivan Dubai rental – 14 seater van renting will be fantastic selection for short trips, weeding transport, airport transportation, hotel transport or a fun Dubai city tour or Abu Dhabi. We offers van rental in Dubai – Sharjah on affordable rates.
Renting a 15 seater passenger minivan Dubai and 14 seater van with driver for your upcoming event will give everyone time to have fun and also catch up with great joy. Our highly trained drivers of Minivan Hiace will come to your door step and driven you to any place in UAE you want to go promptly.
A 15 Seater High-roof Minivan has high range luxury design built and have been using for tour purpose in Dubai, Sharjah UAE for long run inline to families transportation, friends picnic or outing transportation.
All our such a types Hiace 15 Seats Minivan secured of vehicle insurance policy according to govt of Dubai UAE policy. For assurance public liability certification available for inspection subjected to need.
Grab the best deal on 15 Seater Passenger Minivan Dubai Rental – 14 Seater Van in Sharjah on fast track from us, our pro-active staff will get you the best van rental rates offer.
For further details regarding 15 seater passenger minivan Dubai rental – 14 seater van and Van rental rates inquiry in Dubai please follow below links:
15 Seater Minivan Hire With Driver in Dubai       (For further info please click here)
Minivan Rental Rates in Dubai, Sharjah Inquiry  ( for quick inquiry click here)
14 Passenger, 5 Baggage, 2 Doors (Sliding door), Air Conditioning, Perfect Sound System, Luxury Type, Seats Belts, AUX