Dubai to Abu Dhabi Taxi Booking | Travel from Dubai to Abu Dhabi
Dubai to Abu Dhabi taxi booking on a private basis is getting more popular among travelers in UAE two big cities, families and tourist especially for those who need day travel from Dubai to Abu Dhabi to reach their destination on time & stress-free and come back to Dubai compare other Dubai to Abu Dhabi transfer services options.
Travelling Abu Dhabi from Dubai is not a big deal especially for new tourist or traveler now, due to a huge demand of our customers/clients to start exclusive Dubai to Abu Dhabi taxi booking services for group and families, thus we have started an intercity on-demand transfer from Dubai to Abu Dhabi services.
Travel from Dubai to Abu Dhabi takes approx 1 hour and 40 minutes depending on which transfer services you booked, either it's intercity public buses (which takes longer up to 3 hours), Private Dubai to Abu Dhabi taxi, sharing buses, or booked a private transfer to Abu Dhabi from Dubai.
If you are looking for Dubai to Abu Dhabi transfer for big group or tourist to explore Abu Dhabi city or need door-to-door pick and drop services with high comfort, then book Dubai to Abu Dhabi taxi on an exclusive basis which will be slightly costly compare to sharing taxi or intercity buses but it's a good option in the aspect of security, comfortability, and reliability.
Available Fleets for Intercity Private Transfer:
Our taxi seating captivity starts from 7 seats to 50 seats (the small taxi or car like 4 seats we don't deal), so please contact us if you are looking for a private ride to travel between Dubai and Abu Dhabi by big vehicles like 7 seats or above.
Below options are available for Dubai to AbuDhabi transport, so choose the best transport option which suits your need and budget accordingly.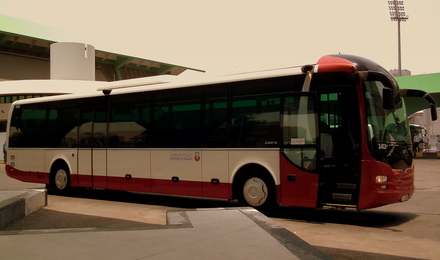 Dubai to Abu Dhabi Bus
Are you staying in Dubai and want to go for work every day to Abu Dhabi and in need of the cheapest commute?, one of the cheapest options is to go by public transport Dubai to Abu Dhabi buses, which called RTA buses.
There are two bus stations in Dubai that provide daily basis Dubai to Abu Dhabi bus services, i.e. Route E100 & Route E1001.
If you are staying in Dubai city areas like in Bur Dubai, Satwa, Hor Al Anz, Al Rigga, Downtown, Deira Dubai or near the city center, etc so the nearest option you have is "Al Ghubaiba Bus Station", to get there, take nearest RTA bus which goes
Show More
Private Transfer Dubai Abu Dhabi
Enjoy a hassle-free, reliable two ways or one-way private transfer Dubai Abu Dhabi by private exclusive Minivan or Buses with a professional driver.
In our private door to door transfer Dubai Abu Dhabi services we assured you reach your drop point comfortably and hassle-free by setting relax in your seat with family or friends and enjoy sightseeing while traveling.
Once you book our private transfer from Dubai to Abu Dhabi services we assured you reach your destination on time and with style.
Choose the pickup time and vehicle from our wide range fleets list and take the stress out and let the driver take care of the rest.
What do we need to Book your Dubai Abu Dhabi Trip?
To book Dubai Abu Dhabi trip we just need your pickup time, pickup
Show More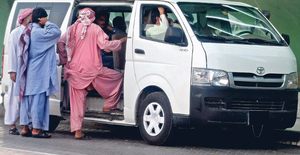 Sharing Basis Dubai Abu Dhabi Transport
The second cheapest option for individual passenger who regularly travel Abu Dhabi from Dubai is to travel by sharing vehicle, which is considered a bit faster than intercity Dubai Abu Dhabi transfer buses but cost 10% higher than public transport buses.
You can find these sharing vehicles at Dubai Abu Dhabi bus stations, the sharing vehicle driver gathers 5 or 12 passengers depending on which vehicle he has, either 7 seats or 12 seats.
The sharing taxi driver is charging 45 to 60 AED from each passenger, and the waiting time subjected to once all seats got full of passengers.
Show More
Dubai Airport to Abu Dhabi Taxi
There is no direct intercity public transport bus or metro available to travel from Dubai airport to Abu Dhabi which is the cheapest commuting option to travel.
However, apart from the above, another cheapest transfer way is to take a private Dubai airport taxi to ride the nearest Dubai bus station and wait till the bus depart time. It is indeed a time-consuming and stressful process especially for big families and a group having enough luggage with kids but still the cheapest option.
Show More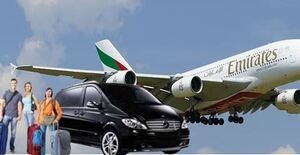 Abu Dhabi Airport to Dubai Ride
Considering the high demands from travelers requesting transport services from Abu Dhabi airport to Dubai transfer, we have opened a branch in Abu Dhabi which comprised of more than 10 minivan and buses with executive drivers, where we offer economic door to door transfer from Abu Dhabi airport to Dubai 24/7.
Show More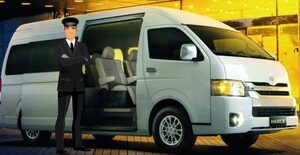 Abu Dhabi to Dubai Chauffeur
Abu Dhabi to Dubai chauffeur is the most convenient and cost-effective option in terms of flexibility and comfortability. Hiring a private chauffeur for Abu Dhabi to Dubai trip will minimize the travel time to around 1 hour and 30 minutes with no stopover at any place while traveling toward Abu Dhabi, exempt if the guest request driver to stop somewhere.
Show More
Traveling from Dubai to Abu Dhabi During Covid-19 Pandemic
There are strict rules implemented by the Abu Dhabi government to be followed by all locals and residence before traveling to Abu Dhabi from Dubai during the Covid-19 pandemic else a huge fine can slap by the Abu Dhabi authority and they will even not allow you to enter Abu Dhabi at all.
Some rules and information are highlighted below to be followed/considered during Dubai to Abu Dhabi lockdown days.
All passengers whether local / residence or new to UAE must present negative COVID‑19 PCR test result issued within 48 hours, if you haven't yet gone through the COVID‑19 PCR test and planning to visit Abu Dhabi then in Abu Dhabi border at Ghantoot there is a facility of testing available too.
If you are returning Abu Dhabi residence from your home country or even stay in another state of UAE for more than 10 days so you will go through a Covid-19 PCR test and have to be quarantined at home or hospital for 4+ days, also, you will have to wear a wristband.  You can remove the wristband tracker after taking the second Covid-19 test if the result is negative.
Before heading to Abu Dhabi from Dubai get an appointment for PCR or DPI rapid laser test one day in advance through an online Mobile App.
The cost of the DPI laser test is 50AED per head.
Children below 12 years are exempted from the Covid-19 test.
Also, Dubai to Abu Dhabi Permit / Permission from the workplace is required to enter Abu Dhabi for workers.
Wearing a mask is mandatory.
The bus seating capacity has been reduced to 50% during Covid-19 in all Emirates states.
Social distancing in all public places like shopping malls, beaches, hotels, or any tourist spot is mandatory.
Following the Covid-19 safety rules set by the UAE health authority, we are washing and sanitizing all vehicles every day to protect our valuable customers and drivers.
Visit Information about Covid-19 in UAE for more details.

AALI Transport and bus Rental Dubai LLC is the Leading Transportation Company in Duabi Sharjah , Abu Dhabi .
We Offers a Premium Vehicles Renting Service For  Parties , Guest Transport , Families Transport , Events Transport , Airport Transfer , City Tours Transport etc.
We Have All Types Of Luxury Minivan And Buses with Drivers On Daily And weekly bases Rent Service And All Over UAE.