Book Bus for Abu Dhabi Tour
Book Bus for Abu Dhabi Tour
Book Bus for Abu Dhabi tour from Dubai from us and have an awesome time visiting the best tourist places that you want to see. We provide private, comfortable, and fun-filled sightseeing tours of the top attractions in Abu Dhabi from Dubai by your choice of private buses, these tours are customized to fit your interests and schedule.
If you are planning to visit Abu Dhabi and would like to discover the Abu Dhabi best attractions with your chosen itinerary, then you should book a bus for Abu Dhabi Sightseeing tour in advance for the best price and best service.
Booking a private bus for Abu Dhabi tour is a unique way to see the city comfortably and provides you with a great insight into its rich history. It will take you through various points of interest in the city and give you a glimpse of its culture, traditions and history. The tour bus will also take you through the city best parks, malls, museums monuments and more.
Private Bus Tour Highlights
A day to remember, the Abu Dhabi tour by private bus from Dubai is a tour that promises you a fantastic insight into the capital city of UAE and its history. Experience the history of Abu Dhabi and witness its growth from a small fishing village to a booming capital city.
The full-day Abu Dhabi city tour from Dubai by private tour bus takes you around the city in a comfortable manner and provides a glimpse of its best points of interest. You'll get to see the city's old and new landmarks and also enjoy a visit to Grand Mosque Abu Dhabi with free access, visit a local market and explore the city's museums, beaches, malls and parks etc.
This Abu Dhabi tour by private bus also gives you a glimpse of Abu Dhabi's rich history. With this exciting excursion from Dubai by private bus, you can explore its various cultures and traditions along with some fascinating attractions like the Louvre Museum, Sheikh Zayed Mosque, Sheikh Saeed Bin Sultan Cultural District, Al Bateen Park, A tour of Ferrari World which is the world largest indoor themes park, Heritage Village and more.
Our Abu Dhabi bus tour deals offer an amazing sightseeing experience with fascinating facts and information about the city that made us one of the best UAE tour operators. This is a fun-filled tour that makes a perfect family outing for a group of friends. Book a bus for Abu Dhabi tour today and enjoy the capital city like never before.
Tour Itinerary
Experience the rich history of Abu Dhabi as you see its old and new landmarks, See the city's best attractions, including Emirate Park and Zoo, Al Bateen Park, Sheikh Saeed Bin Sultan Cultural District, Sheikh Zayed Mosque, Al Raha Mall, Abu Dhabi Mall, and Heritage Village, Ferrari World, Yass Mall, Abu Dhabi History Museum and Aquarium, Emirates National Auto Museum, Emirate Palace, visit a local market, See the best of Abu Dhabi's culture and traditions. Book a bus for Abu Dhabi tour and get to know the city's rich history, modern and historical attractions with no hassle and worries of taxi meter run, just sit back in rear seats relax and handover your itinerary to the driver and let your private bus driver drive accordingly.
Visit Other Tour Packages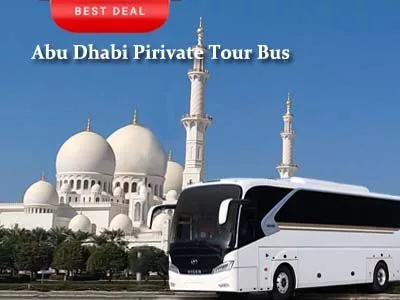 How to Book a Bus for Abu Dhabi Tour
Booking a bus for Abu Dhabi tour is the best way to travel from Dubai to Abu Dhabi with comfort and to visit the best tourist attractions in the city at your convenience. If you are looking for a great ride on a comfortable bus, you can book a bus from us anytime from anywhere. We have a wide range of fleets for Dubai to Abu Dhabi ride ranging from 7 seats to 50 seats. The best part about our bus booking service is that we offer great discounts on our Abu Dhabi bus tours.
The bus booking process is very easy, To book a bus for Abu Dhabi tour, you Just complete the required details in the online form or send the details to our Whatsapp number, email us or call us directly, once we received the booking details with confirmation, our customer care team will send you the booking details with reserved driver contact number within 20 minutes.
What to Bring
Camera for photo shots, Water, Snags, Food, Sunglasses, Comfortable shoes, etc.
Tour Start and End Time
It's a private bus tour and you are here to book a bus for Abu Dhabi tour to explore the city with ease and no hassle, so the tour start and end times are completely depending on the traveler's convenience and needs.
Not Recommended
This tour is not recommended for travelers who are pregnant, kids under the age of 2, have heart issues, or other medical conditions, are currently suffering from an illness or fever.
Instructions
If you are not yet in UAE and planning to book a bus for Abu Dhabi tour in advance so, we recommend that you arrive at the hotel in advance of your departure time to ensure you have time to get checked in and settle into your room before your tour bus departure time.
Inclusion
The tour includes Pick-up and Drop off from Dubai any hotel as per the customers convenient time and date.
Private van or bus.
English-speaking guide Driver,
Fuel, Salik, VAT and Parking Charges, etc.
Exclusions
Food, Personal Expenses, Entry Tickets, Tour Guide, Water
bus safety measures during COVID-19
We are sanitizing and washing all our tour buses after each tour
Drivers are using Mask and Glove all the time during the bus tour
All  drivers and staff members are fully vaccinated
We do PCR tests of our all drivers before each bus tour
We regularly check our drivers and staff temperature
Why Choose us
We have the best drivers who are well-trained, friendly, and willing to help you at any time. They know all the routes of Abu Dhabi and are able to reach every corner of the city with ease. All the drivers are equipped with the latest gadgets to make your journey comfortable and memorable.
We are here to make your life easier. We ensure that your bus tours and trips are hassle-free and comfortable. Our all tour buses are fully air-conditioned and are equipped with great options like Music System and Microphone etc. Our drivers are polite and are always on time. We offer 24-hour service to ensure that you do not have to wait for long to board your bus.