Al Ain City Tour | Discover The Green City of UAE
Al Ain City Tour from Dubai
Book your Al Ain city tour from Dubai with us and explore the heritage and modern attractions of Alain city within a full day 10 hours city tour package. We offer low-cost Alain tour from Dubai services by private buses and minivans on daily basis for families, groups, travelers, tourists, and locals, etc.
In these 10 hours Alain tour deals you will have enough time to explore the top tourist attractions within the city. The tour itinerary we offer is fully customizable based on tourist needs, and the tourist can even prepare their own itinerary too or can follow our default itinerary which mentions below where we cover almost all top attractions.
Include the Abu Dhabi tour in your itinerary if you want to explore the historical and capital city of the UAE.
Highlights of Al Ain Tour from Dubai
After a few days of the fast life in Dubai with all its amazing sparkle and glamour, a day out in the Garden City is just what you need to relax your body and soul. Al Ain City Tour will take you safely and comfortably around all the best places in Al Ain on a trip you're sure not to forget.
It is known as the Garden City for its lush oases with thousands and thousands of date palms, mango, and other fruit trees as well as other green areas around the city such as beautifully landscaped parks and small scattered oases.
The Garden City was where the ruling family of Abu Dhabi and many others in the past spent the summer months away from the humidity of the coast.
On the Al Ain tour from Dubai, you will discover the region's rich history from ancient times to more recent. It's easy when walking around the oasis and forts to be swept back in time and imagine the lives of those who lived there over the centuries.
At the camel market, you will still see many aspects of the traditional life along with some modern additions or changes woven in.
The Alain tour from Dubai will start with your personal driver picking you up from your hotel or residence at a time that suits you and take you off on a journey of discovery.
Are you a natural attractions lover and interested to visit mountains for hiking and having camping and cooking BBQ? then take a look at the Hatta city tour packages we offer on a budget now, and or if you are a lover of modern tourist attractions, skyscraper, luxury shopping malls, and beautiful beaches then book Dubai city tour deals which includes the city top tourist attractions visit.

Explore other UAE cities tour with us on budget
Lets Explore Al Ain City Best Tourist Attractions
Note: Below are Al Ain Top Tourists Attractions Which we Cover in Our Default Alain City Tour Itinerary. But it Can be Customize Subjected to Tourist Demand & Interest.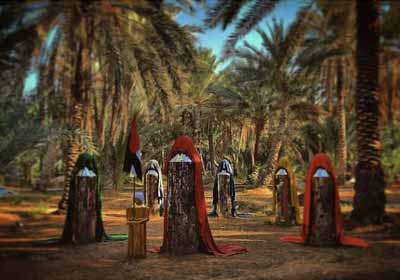 Al Ain Oasis
Al Ain Oasis: This stop on the Al Ain tour from Dubai is one of the biggest contrasts between the two cities. From the modern shiny skyscrapers, sprawling malls, and busy life of Dubai, you will feel as if you've landed in some magical land from Thousand and One Night when you arrive in Al Ain Oasis.
Show More
Al Ain Zoo Tour (Explore the Largest Wildlife Park in UAE)
Al Ain Zoo: A favorite Al Ain Tour destination for families is Al Ain Zoo. Open for more than fifty years, they have around 4000 animals including endangered and rare species as the White Tiger.
Did you ever imagine you would see penguins on the Al Ain City tour?
Show More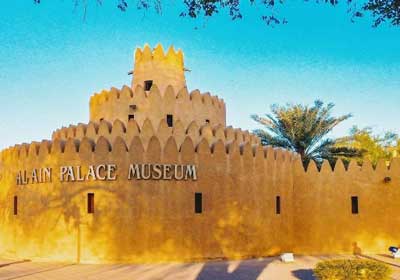 Al Ain National Museum
Al Ain National Museum: The museum is situated within the oasis in the Eastern Fort. In one of the three main sections, archaeology, you will learn about the history of the town going back 500o years and about some of the other Al Ain tour destinations, such as the beehive tombs at Jebel Hafeet and Bronze
Show More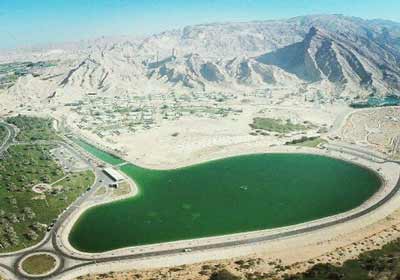 Green Mubazzarah Al Ain
Green Mubazzarah Al Ain: There is no doubt that Green Mubazzareh belongs at the top of the list of best places in Al Ain with its stunning landscape of streams, waterfalls, grass-covered hillocks, a lake, hot springs, an abundance of picnic spots, and places to eat. You might want to hike or cycle around first
Show More
Jebel Hafeet Desert Park – The Best Camping Spot for Family
Jebel Hafeet Desert Park: Head to the newly open desert park "Jebel Hafeet Desert Park" after ending from Green Mubazzarah and enjoy some memorable time here. The Jabil Hafeet Desert Park showcases the natural beauty and some historical sights. It's the best spot for camping for a whole day or night.
Show More
Jebel Hafeet Mountain
Jebel Hafeet Mountain Al Ain: The tallest mountain in the emirate of Abu Dhabi, and second tallest in the UAE, Jebel Hafeet, is a must-see on the Al Ain City Tour. The long winding road to the summit leads to a breathtaking view all over the city and beyond, especially if you time your visit for sunset.
Show More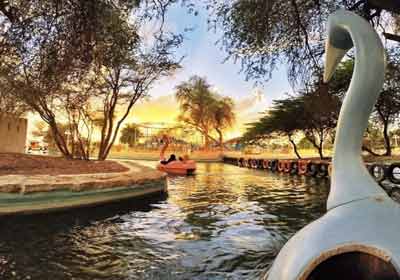 Hili Fun City
Hili Fun City: A firm favorite with children on the Al Ain tour from Dubai is Hili Fun City with 28 different rides, ice rink, play areas, and lots of picnic areas. Jump on a ride or sit back in the gardens while the younger ones have fun.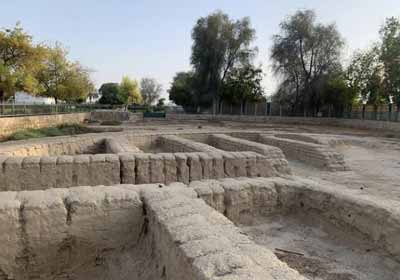 Hili Archaeological Park
Hili Archaeological Park: Not far from Fun City is Hili Archaeological Park where you can see the oldest farming village ruins in the UAE. Several tombs date back to both Bronze Age and Iron Age with the centerpiece being a circular Umm al Nar tomb, a collective grave for the local community at the time.
Jahili Fort and Park
Jahili Fort & Park: The next interesting Al Ain tour destination is Jahili Fort which dates back to the late 19th century when it was home to the ruling family. A fascinating exhibition on the life and travels of Wilfred Thesiger brings to life the recent history of the area.
Show More
Camel Market
Camel Market: Another popular Al Ain tour destination out of the city is the camel market. If you want to watch haggling and sales taking place, it's best to get there early morning and enjoy the traditional vibe.
You'll still be able to see camels later on though. You'll have
Show More
Best Tourist Attractions in Al Ain
Al Ain, the emirate that is the gateway to the region, has a lot to offer its visitor. Discover the best places in Al Ain, a city where nightlife is limited to the hours between sunset and sunrise.
There are so many natural, historical and modern tourist destinations in Alain city, below we have highlighted top tourist attractions in Alain city, You can cover max 5 tourist attractions in one day Al Ain tour from Dubai packages.
Al Jahili Fort

Al Ain Zoo

Alain Palace Museum

Alain National Museum

Hili Archaeological Park

Hili Fun City

Paradise garden

Al Basra Park

Al Jahili Park

Qasr Al Muwaiji

Bin Hamoodah Mosque

Murabba Heritage Fort

Al Darmaki Fort

Hili Oasis

Al Ain Park

Sky touch mountains "Jebel Hafeet" 1,340 meter-high mountains.
Unlike Dubai, Sharjah, and Abu Dhabi cities, Al Ain city has less modern types of skyscrapers, luxury hotels, and big buildings, but the city is full of natural attractions which attract nature lover tourists from all over the world.
About Alain City
Alain city is the fourth largest city in the United Arab Emirates and is located approximately 160 kilometers (99 mi) in the east of Abu Dhabi city and about 120 kilometers (75 mi) in the south of Dubai.
The city is the birthplace of the UAE founding father "his Highness Sheikh Zayed", and was the restful stop on the caravan routeway between the Kingdom of Oman and the Gulf region.
Because of the close cultural touch, greenery, and silence, most Arab local families prefer to stay in Alain city.
AALI Transport and Bus Rental Dubai LLC is The Leading Transportation Company & Best Bus Rental Company in Dubai, Sharjah & Abu Dhabi  UAE.
We Offer a Premium Vehicles Renting Service in Dubai For Picnic &  Parties Transport , Guest Transport , Family & Friends Transport , Events Transport, Airport Transfer, City Tour Transport, Hotel Transport, Group Passenger Pick n Drop, Sightseeing Transport etc.
We Have All Types Of Luxury Minivan and Buses with Drivers Rental Services On Daily & Weekly Bases All Over UAE.
COMPANY INFORMATION
Add: Sheikh Zayed Road Dubai & Rolla Sharjah