Abu Dhabi City Tour | Explore The Capital City of UAE
Abu Dhabi City Tour with Best Itinerary & Rates
Abu Dhabi City Tour
Experience the best of Abu Dhabi on our private Abu Dhabi city tour, taking you to some of the city's most iconic and noteworthy landmarks. Visit the Sheikh Zayed Grand Mosque, Abu Dhabi Corniche, and the luxurious Emirates Palace and Presidential Palace.
Explore the city's rich cultural heritage at the Heritage Village and Qasr Al Hosn & Qasr Al Watan.
Discover local flavors at the Dates Market and Iranian Market. Visit world-renowned attractions on Yas Island, including Ferrari World and the Louvre Museum Abu Dhabi. End the day with a trip to Warner Bros World.
At the end of the Abu Dhabi full-day tour, our driver will drop you off at your hotel or residence in Dubai.
Doorstep pick-up and drop-off by private vehicle are included.
This Abu Dhabi tour from Dubai offers a comprehensive and engaging look at the city's diverse and captivating sights and attractions.
Overview
Our Abu Dhabi tour starts with a visit to the world's most spectacular Mosque, Sheikh Zayed Grand Mosque. This is the largest mosque in the Middle East, with space for up to 50,000 worshipers. As you enter, you can admire the architectural beauty of the building. See the mosque's stunning interior and take a peek at the 84 domes from the mosque premises.
Abu Dhabi's famous Grand Mosque is a breathtaking sight. Experience it on a full-day Sheikh Zayed Grand Mosque Tour Abu Dhabi package with your private driver from Dubai.
After visiting the Grand Mosque, the tour continues to the Abu Dhabi Corniche; it is one of the perfect tourist attractions in Abu Dhabi to hang out and enjoy with family and kids. It is a wonderful place to enjoy the marvelous view of the beach and the wide range of modern buildings.
The walk along the Corniche is about 8 km long and has many shops, restaurants, and cafes.
Head to the beautiful Presidential Palace and the majestic Emirates Palace in Abu Dhabi, home of the ruling Khalifa family, and discover the two most luxurious hotels in the city. They are two iconic buildings representing the highest luxury hospitality standards in the Middle East. These Palaces are considered the most exclusive hotels in the Middle East and boast a unique collection of exceptional works of art and a rich heritage.
We will visit the Heritage Village Abu Dhabi, an authentic Arabian village, and experience its unique culture. The Heritage Village showcases the traditional lifestyle of the people of the UAE, including their daily life, traditional crafts, and the UAE's ancient heritage, and you can feel life as it was a century ago in the United Arab Emirates.
The Heritage Village is a great opportunity to learn more about the UAE's culture and discover some of the best tourist attractions in Abu Dhabi.
Your Abu Dhabi tour bus driver will show you around the Abu Dhabi Mall, which features international and local luxury brands. The Mall is one of the biggest malls in the city and has a wide variety of shops that sell everything you can imagine, from clothes, shoes, bags, jewelry, cosmetics, and more.
Then we will move toward Qasr Al Hosn to explore the historic old stone building and capture some amazing photos. Spend some time here and head to the next Abu Dhabi city tour attraction, Qasr Al Watan; it's a presidential palace and a cultural landmark. It highlights the nation's history and promotes its heritage. Visitors can learn more about the nation's history in the museum.
From Qasr Al Watan, we will visit the Dates Market Abu Dhabi. The Dates Market is the largest market for dates in the world. It's made up of many enclosed, cooled shops where visitors can select their desired dates and buy them at an affordable price.
The best way to enjoy Abu Dhabi Date Market is to pick up a few delicious dates sold on the stall and enjoy them with your favorite tea or coffee.
After a quick stop at the Dates Market, we'll make our way into the Iranian Market, located in the Mina district; it is the best tourist attraction in Abu Dhabi for people who like traditional and handcrafted jewelry.
Carpets, blankets, rosaries, and other handmade items are available in the Iranian market. Different types of silk, wool, and cotton are used to make the carpets here. This is the perfect place to go if you want a special gift.
We'll also be visiting Yas Island, a man-made island and one of the best leisure islands in the world. The island has an area of 2400 acres and is home to the Formula 1 racing track, beach, hotels, golf course, a water park with slides, Yas Mall for shopping, and more.
The private Abu Dhabi sightseeing tour also includes a visit to the Ferrari World, one of the largest indoor amusement parks in the world featuring a Formula 1 racing track, the world's fastest indoor Roller coaster (Formula Rossa), Ferrari cars, and other rides. You can also book exclusive Ferrari World Tour Abu Dhabi deals with us at budget rates.
On returning from this amazing journey, we'll visit the Louvre Museum Abu Dhabi, the largest museum of art in the Middle East. The Louvre Museum houses the largest collection of Western art, Islamic architecture, and artifacts, including the only painting by Leonardo da Vinci in the Middle East.
 At the end of this amazing Abu Dhabi sightseeing tour, the driver will drop you off at your hotel in Dubai.
If you are planning and interested in exploring Abu Dhabi with ease and freedom, then book a private bus for Abu Dhabi tour and visit any tourist attraction you want with no hassle.
Extra info: If you are looking for a more luxurious experience with a difference, then we would like to invite you to book our Dubai city tour package, where you can enjoy the city sights at your own pace and get a glimpse of the historical monuments, shopping malls, skyscrapers, museums, and other tourist attractions of the city at your convenience.
Tour Itinerary
Below is a typical Abu Dhabi tour itinerary for your journey. You can tailor this default itinerary according to your interests and preferences. For a comprehensive list of things to do in Abu Dhabi, top places to visit and complete itinerary, please refer to the full day Abu Dhabi tour itinerary.
Visit the wonderful tourist attraction Sheikh Zayed Grand Mosque.

Enjoy the magnificent views of the beautiful and lively Corniche.

Short trips to the Emirates Palace & Presidential Palace.

Explore the Heritage Village.

Do shopping at Abu Dhabi Mall.

A short drive down to the Qasr Al Hosn & Qasr Al Watan.

Stop at Date Market.

Head to the Iranian Market.

See the world-famous Yas Island.

Tour of Ferrari World Abu Dhabi.

Discover Abu Dhabi Louvre Museum.
Other Tour Packages, You May Like to Explore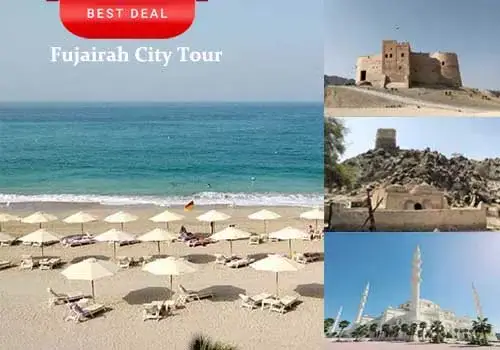 Abu Dhabi Tour Rate & Packages
The tour package and price of the Abu Dhabi city tour with a private transfer is dependent upon the size of the group, the model of the vehicle, and the vehicle size, which are some of the factors that are involved in the Abu Dhabi sightseeing tour with private transfer cost.
Our Abu Dhabi tour rates and packages are not static, and if you book multiple days with us, you could save up to 15% compared to a one-day booking.
The cost of the tour is subject to the month you want to book the tour, for example, the full tour season is between October to March, and the price can be 20% higher compared to half tour season which is between April to September months.
We offer private, personalized, and flexible tours packages at attractive prices. Our tours are not per head basis and we do not operate on any sharing basis. Tourists can choose their choice itinerary as per their interests, thus it is difficult to calculate the exact cost of the tour package in advance.
Our Abu Dhabi tour with private transfer rate starts from 220 USD for up to three pax (but it still depends on the above-mentioned details). We would like to clarify that the tour packages rates mentioned here are not final prices, they are just indicative of what you could expect to pay. The final prices may vary and could be more or less than what is shown here.
Considering the above facts we cant mention static rate as it depends on the above-highlighted facts, but we work hard to offer the best rate to our customers and we guarantee that you will get a very competitive rate.
We offer the best deals on Abu Dhabi city tours with private transfers. We are a leading UAE tour operator and have been offering our services to clients for years at budget rates. Our tour packages are designed to provide you with a great experience of the city while you enjoy your time with us. We understand how important it is for you to save money and be comfortable when traveling.
If you want a quotation for the Abu Dhabi tour rate, please contact our office salesperson by calling or Whasapping +971564170555 or through the online chat portal.
Important info
Do not take pictures of any UAE national Male or Female without their permission, also taking pictures of military and some government institutions is prohibited.
This tour is available only for fully vaccinated travelers having 72 hours of valid negative PCR tests during Covid-19 pandemic days.
Carrying any prohibited items or liquids which are not allowed by the UAE government is not allowed in our buses.
Drinking alcohol, smoking and eating are not allowed inside the bus.
The tour buses are not wheelchair accessible, but the drivers can help people in wheelchairs get on or off the bus.
In case the bus breaks down while the service is going on, we will send a replacement vehicle in 2 to 3 hours, depending on the distance between the breakdown vehicle and the new vehicle.
Booking & Cancellation Policy
This is a private Abu Dhabi tour with exclusive transfer and we suggest you book this tour at least two days in advance to ensure your preferred vehicle and driver are booked.
Booking can be done on the same day as well (subject to vehicle availability).

The booking confirmation with driver contact details will be sent within 20 minutes once customers confirm the reservation with the necessary details.

Booking can be done through email, Whatsapp, and direct phone calls (24/7 Hrs).

Customers shall notify us minimum 24 hours in advance regarding changing in scheduled pickup date, time or location.

To secure the booking, 20% of the invoice amount needs to be transferred to our bank account in advance (optional).

We reserve the right to cancel any activity or modify the itinerary in any way for customer's safety, bad weather, fog, or any restrictions imposed by local authorities.

If the customer does not show up for their appointment or cancels the booking at services date so we reserve the right to not refund the payment.

A 20% booking fee will be charged if the booking is canceled within 24 hours of the service start time.

Cancellation can be made by customers three or more days before the date of the service for no fee.

5% VAT will be charged from customers as per UAE government taxation rules.
Information for Grand Mosque Visit Tourists
Sheikh Zayed Grand Mosque is open every day from 9 am to 8 pm.

The Grand Mosque is usually closed during Islamic festival days.

The Grand Mosque is closed on Fridays during Holy Ramadan month.

Women must cover their heads, hands, and must wear long dresses.

The dresses must not be tight-fitting

Men are also not allowed to wear short dresses (Mosque Management doesn't provide dresses for Men).

Men and women both need to fully cover their legs and arms.

It's forbidden for all people to kiss or hold hands inside Grand Mosque premises.

Parents should take care of their children at all times since there are open pools inside Mosque premises.

Smoking and eating foods are not allowed inside Grand Mosque
Tour Duration

Tour duration is up to 10 hours, excess hours will be considered overtime.

Both ways transfer time is included in 10 hours duration.

Time countdowns start once the driver picks up the guest from their hotel or accommodations in Dubai or Sharjah.
Dress Code:
Comfortable shoes and a modest dress code is best for this tour
Departure Time:
The favorable departure time is between 9 am and 10 am from Dubai, but it's totally up to the customer's convenience.
Return Time:
The return time is not fixed, customers can return whatever time they want as it's a private tour. (Please note: The tour duration is up to 10 hours, excess hours will be charged as overtime)
Inclusions
Fully air-conditioning private vehicle with a professional and well-dressed driver.

Pickup and drop from any hotel or accommodation within Dubai or Sharjah.

Pickup and drop from customer's doorstep.

Salik, Parking charges, Fuel, etc.

Microphone, Great sound system.

Sightseeing with a private transfer of Abu Dhabi city top tourist attractions which are mentioned above.
Payment Method:
Payment can be paid to the driver by cash at pickup time or can be transferred to our bank account in advance. Our accepted currencies are AED, USD, EUR, Pound, Riyal, Yen.
Exclusions:
Tour Guide (Driver possesses strong experience of Abu Dhabi all tourist attractions and can guide tourists about where to visit and which are the top tourist attractions in Abu Dhabi.

Cold Drinks, Foods, Lunch, Dinner, etc

Tourist Attractions entry tickets.

Child seats.

Wifi
How to Book Abu Dhabi Tour:
Anyone can book this amazing tour by direct calling Dubai office or Abu Dhabi our office, emailing and through WhatsApp, and even through online chat options from all over the world. After receiving all the required details and confirmation from the customers, we will send the booking confirmation including the driver's contact details within 20 minutes.
Vehicles:
For this tour, we use 7 seat minivans, 12 and 15 seats vans, 25 & 30 seater minibus, 35 seats luxury buses, and 50 seats luxury tour buses (Depending on tourist group size and demand). All our vehicles are fully insured as per UAE law. All vehicles are inspected by technicians before every tour.
Other Related Tour Packages
There's so much to see in this beautiful city, but if you're short on time, here are some of our best tour packages
How Far is Dubai Abu Dhabi?
A: Abu Dhabi is located 140 km far from Dubai's main city areas and takes approx 1 hour and 50 minutes by Dubai to Abu Dhabi tour bus or van ride via Sheikh Zayed Road.
How do you get from Dubai to Abu Dhabi?
A: There are many transfer options like if you are 3 or fewer people use general RTA taxi or go by metro or you can use public transport buses. But if you are a large group or family and want to have an Abu Dhabi day tour or pick n drop so better to hire a private bus or van.
What are the best restaurants to eat in Abu Dhabi?
A: There is plenty of luxury and ordinary restaurants in the city, being in the business of tourism we can suggest a few restaurants based on the tourist feedback.
Angar restaurant (Indian restaurant) located in Yas Marina Circuit,
Villa Toscana (Italian Restaurant) located in National Tower Corniche Road,
Sontaya South East Asian Restaurant (Thai Restaurant) Located in Saadiyat Island,
Paul Cafe (French Restaurant) Located in Zayed the 2nd street,
Ibrahimi Restaurant (Pakistani Restaurant) Located in Madina Zayed,
Hakkasan (Chinese Restaurant) located in Emirate Palace Corniche Road etc.
What are the adventurer things to do in Abu Dhabi at night?
A: Abu Dhabi is the city of lights, fun, and adventure, the fun activities never end and are active 24/7. You can indulge yourself in Abu Dhabi nightlife by visiting dance bars, restaurants, parks, and zoos and can roam around the city. Visit Sheikh Zayed Grand Mosque at night and enjoy the blue light reflecting the white tiles and domes.
How long is the corniche in Abu Dhabi?
A: Abu Dhabi Corniche is located in the heart of Abu Dhabi city, the Corniche road is 8 kilometers long which comprised of a beautiful park, children's play areas, cafes, and restaurants, etc. Here you can cook with family and can spend a whole day.
Is Sheikh Zayed Mosque free?
A: Yes, Sheikh Zayed Grand Mosque is free to enter. The Mosque opened from Saturday to Thursday from 9 am to 10 pm. It Friday morning time the Mosque is open for worshiper only.
What to wear at the Sheikh Zayed Grand Mosque?
A: Visitors to the Sheikh Zayed Grand Mosque in Abu Dhabi are required to dress modestly and respect the cultural and religious norms of the region. For men, it is recommended to wear long pants and shirts that cover their shoulders.
Women must wear an abaya (a long, black robe) and a headscarf, which can be borrowed at the Grand Mosque entrance.
It is also mandatory to avoid wearing tight or revealing clothing.
How long is the Abu Dhabi city tour?
A: The duration of an Abu Dhabi city tour can vary based on the package selected and the number of tourist attractions the visitor wants to cover. Typically, most tours last between 8 to 10 hours, but the duration may exceed depending on the visitor's preferences, and the duration tourist wants to stay at each tourist attraction.
Our Abu Dhabi tours are private, and tourists can choose the duration that best suits their itinerary. However, please note that additional overtime charges may apply if the tour extends beyond the 10-hour time limit.
What is included in the Abu Dhabi city tour?
A: Our Abu Dhabi tour from Dubai provides a comprehensive itinerary that covers an array of popular attractions and destinations in the city. You can expect to visit iconic landmarks such as the Sheikh Zayed Grand Mosque, the luxurious Emirates Palace, and the historic Heritage Village. In addition, the tour includes a stop at the thrilling Ferrari World and Yas Island, which are sure to delight visitors of all ages.
The tour also includes visits to cultural treasures such as Qasr Al Watan and Qasr Al Hosn, which offer a glimpse into the region's rich heritage and history. You'll also have the chance to experience the bustling Dates Market and explore the Abu Dhabi Mall, one of the largest shopping centers in the city.
To ensure a stress-free experience, we provide pickup and drop-off from Dubai, Sharjah, or Abu Dhabi hotels or even direct from DXB airport, along with transportation between sites in a brand-new vehicle. Our experienced drivers will guide you through the itinerary, sharing fascinating insights and stories along the way.
In summary, our Abu Dhabi city tour offers a well-rounded and enjoyable experience that showcases the best of what this vibrant city has to offer.
Can I customize my Abu Dhabi city tour?
A: Whether you want to add or remove certain attractions, adjust the duration of the tour, or incorporate specific experiences, we can work with you to create a customized Abu Dhabi tour itinerary that meets your needs. We also offer a range of transportation options, from private cars to luxury coaches, to suit your group size and preferences.
To get started with a customized Abu Dhabi city tour, simply contact us and let us know what you're looking for. Our team of experienced travel experts will work closely with you to understand your preferences, interests, and schedules, and create a personalized itinerary that suits your needs.
Please note that customization options may be subject to availability, seasonality, and other factors, so it's always best to plan ahead and book your Abu Dhabi tour well in advance. Additionally, customized tours may involve additional costs, depending on the specific requests and services needed.
We'll always provide transparent pricing and communicate any additional costs upfront, so you can make an informed decision about your customized Abu Dhabi city tour.
AALI Transport and Bus Rental Dubai LLC is The Leading Transportation & One of the Best Bus Rental Companies in Dubai, Sharjah & Abu Dhabi  UAE.
We Offer a Premium Vehicles Renting Service in Dubai For Picnic &  Parties Transport, Guest Transport, Family & Friends Transport, Events Transport, Airport Transfer, City Tour Transport, Hotel Transport, Group Passenger Pick n Drop, Sightseeing Transport, etc.
We Have All Types Of Luxury Minivan and Buses with Drivers Rental Services On Daily & Weekly Bases All Over UAE.
COMPANY INFORMATION
Add: Sheikh Zayed Road Dubai & Rolla Sharjah