Abu Dhabi City Tour  Explore The Capital City of UAE
Abu Dhabi City Tour with Best Itinerary 
Explore the Capital City of UAE by Private Tour Buses
Abu Dhabi City Tour
Book an Abu Dhabi city tour from Dubai covering the best places to visit and things to do in the capital city. Bus Rental Dubai's Abu Dhabi private tour itinerary is a great option for sightseeing in comfort and style.
Overview
The UAE is an up and coming tourist destination, and one of the best-known countries in terms of modern architectural gems, from its incredible high-rises and luxury shopping malls to the plush hotels and urban parks.
Its capital is Abu Dhabi, where the nation's president, HH Sheikh Mohamed bin Zayed bin Sultan Al Nahyan, resides.
According to a recent survey, more than 2 million tourists visit Abu Dhabi each year; a holiday to the UAE is incomplete without a trip to its capital city and we're here to make that possible for you with convenience and comfort.
Travel with Bus Rental Dubai on a one-day Abu Dhabi private tour to explore the city's many iconic sights and new attractions.
Our experienced drivers will take you sightseeing aboard fully air-conditioned luxury buses and minivans. En route the 1 hour and 40 minutes ride via Sheikh Zayed Road, you'll enjoy passing by many gleaming skyscrapers on either side of the highway.
The tour lasts up to 10 hours, and any excess hours will be considered overtime.
While we recommend visiting some of Abu Dhabi's most memorable places with family and friends, Dubai to Abu Dhabi flexible transfer and frequent hop-on and hop-off mean you can customize the Abu Dhabi tour as per your liking.
Get familiar with Islamic traditions at the Sheikh Zayed Grand Mosque, discover Arabian culture at the Heritage Village or witness the best architectural designs at Emirates Palace Hotel. Immerse yourself in the art world at the Louvre Abu Dhabi museum or get set for adventure at Ferrari World. Snap a few photos and hop back on the bus or stay on at a location and soak up the atmosphere for a couple of hours.
Abu Dhabi City Tour Itinerary
Bus Rental Dubai's Abu Dhabi city tour itinerary covers most of the must-visit city landmarks, as outlined below. Keep in mind that the trip is not limited to these spots and can be tailored to meet your interests.
✔ Pickup from any place within Dubai or Sharjah by minivan or bus (subject to customers' needs and size of group)
✔ Ferrari World Abu Dhabi (overview from outside)
✔ Yas Island
✔ Sheikh Zayed Grand Mosque (with entry access)
✔ Heritage Village Abu Dhabi (with tourist access)
✔ Dates Market Abu Dhabi
✔ Irani Market
✔ Al Wahda Mall (or any mall within Abu Dhabi city limits, as per guests' shopping requests)
✔ Emirate Palace (overview from outside)
✔ Qasr Al Hosn
✔ Abu Dhabi Corniche
✔ Louvre Abu Dhabi (outer view)
✔ After ending this amazing journey, the driver will drop you off at your requested destination
Want to see more of the UAE? Experience the country's cultural capital on our Dubai City Tour or go off the beaten path and discover the town of Al Ain , Or visit the mountain city of UAE in our Hatta city tour packages.

Other Tour Packages, You May Like to Explore
Watch Abu Dhabi Tour Top Attraction Live
Why Book With Abu Dhabi Tour with Us
There's no shortage of options when it comes to Abu Dhabi sightseeing experiences but we're a preferred tour operator for a number of reasons. Here's why you'll want to choose us:
This is a professional tour with a top Abu Dhabi city tour itinerary

The program covers almost all of Abu Dhabi's main neighborhoods and popular landmarks

With all transfers arranged, you don't have to worry about how to get from one place to the next during the trip

It is ideal for all kinds of people including solo travelers, first-timers, and those with time constraints, as it lets you experience Abu Dhabi's hotspots in a limited time frame

Personalize this itinerary – add to or amend it – to discover Abu Dhabi your own way on a private Abu Dhabi City Tour

We accept bookings done up to 2 days prior to the event date. Even same-day bookings are possible but are subject to availability.

Infants are exempted from entry fees

We offer (about us page) flexibility in payments – 20% of the total payment shall be done in advance to secure the Abu Dhabi City Tour booking. In case customers are unable to remit the advance payment, we offer same-day bookings as well, allowing guests to confirm their seats with a cash payment to the driver.

Abu Dhabi tour bookings can be postponed by guests a minimum of 5 days prior to the travel date
Customers will be informed ahead of time about those tourist attractions which require entry tickets to be paid for by them
Important Information
Ready to hit the road? Plan ahead by keeping these points in mind:
Sheikh Zayed Grand Mosque has special dress code requirements for entry:

Men should not wear shorts (the outfit should cover knees)

Legs and arms should be covered

The attire should not be tight

Women must cover their hair. An Abaya and a headscarf will be provided by mosque management, which is to be returned while leaving.

Entry tickets, for those tourist attractions which require one, shall be arranged by guests in advance and not on the spot at the entry gates

All our Abu Dhabi local tour packages are private and not offered on a sharing basis
Best Places to Visit In Abu Dhabi
There's so much to see in this beautiful city, but if you're short on time, here are some of the best places in Abu Dhabi to visit:
Sheikh Zayed Grand Mosque: this is the largest mosque in the UAE and a grand place of worship. The mosque contains 7 ceiling fixtures, each of them made of a huge number of Swarovski crystals and white marble.
Show More
Emirates Palace Hotel: This luxurious property is known as the third most expensive hotel in the world to build, costing over US$3 billion. The stunning structure blends Arabian splendor with modern glamour, creating
Show More
The Louvre Abu Dhabi Museum: here's a true hotspot for art lovers. Inaugurated in 2017, the art and civilization museum is the largest of its kind in the entire Arabian peninsula. It is located in the emirate's Saadiyat
Show More
Yas Island / Ferrari World: spread over an area of 25 square kilometers, Yas Island is home to the Yas Marina Circuit which has held the Formula One Abu Dhabi Grand Prix since 2009. The island also has several
Show More
Emirates Park Zoo: this zoo in Abu Dhabi gives you the opportunity to witness 1,700 different kinds of species and wildlife, from a rare white tiger and Siberian bear to lions and cheetah among many others.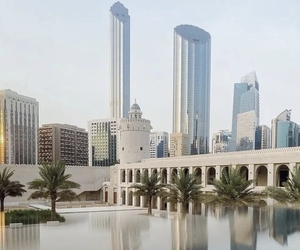 Qasr Al Hosn: this heritage site in Abu Dhabi was constructed in the 1790s as the residence of the rulers and the place from where the nation's administration was conducted. This stone-made building 
Show More
Abu Dhabi Corniche: the corniche road spreads around 9 kilometers with separate pedestrian pathways and reserved children's play areas. It is the best picnic spot for families. You can spend a whole day here and even
Show More
Marina Eye: this giant Ferris wheel on the corniche breakwater is visible from across the city. Opened in 2015, the massive wheel dominates the skyline in front of the frequented Marina Mall. Mostly used as an
Show More
Heritage Village: a fantastically reconstructed Arab neighborhood, the Heritage Village depicts the Emirati people's lifestyle before oil was discovered in the nation.
Al Ain Zoo and Aquarium: located at the foothills of Jebel Hafeet in Al Ain, this sprawling wildlife park spans over 400 hectares. The zoo is home to around 4,000 animals belonging to 180 different species including
Show More
Things To Do In Abu Dhabi
Staying over in the emirate? Plan your days here with our list of the top activities in Abu Dhabi.
Delve into history at Al Jahili Fort. Built in the 1890s, it has a permanent exhibition devoted to Sir Wilfred Thesiger, the intrepid explorer, travel writer, and photographer who crossed the world's largest sand mass Rub Al Khali, twice in the 1940s.
Qasr Al Muwaiji. Explore an impressive archaeological structure and UNESCO World Heritage Site on a visit to Qasr Al Muwaiji. It was also the birthplace of the emir of Abu Dhabi, HH Sheikh Khalifa bin Zayed Al Nahyan, in 1948.
Flamingos Al Wathba. Spot colorful flamingos in Al Wathba Wetland Reserve. This UNESCO site is one of the few places in the UAE where you can find flamingos.
Climb Jebel Hafeet Mountain. Climb the highest mountain in Abu Dhabi at 1,249 meters – Jebel Hafeet. Take a road trip, run or cycle up too, if that's your thing.
Quad Bike at Moreeb Abu Dhabi. Go quad-biking at Tel Moreeb desert safari. The dunes situated in Abu Dhabi's majestic Al Dhafra region are considered as one of the world's tallest sand dunes, at over 300 meters high, with a 50-degree incline.
Get adventurous at Warner Bros. World, Yas Island's latest theme park addition. Dedicated to the entertainment studio's onscreen and comic book heroes and villains, this amusement facility offers nonstop fun on rides based on all your favorite characters.
Drive on the Formula One track at Yas Marina Circuit on Yas Island. There are regular guided tours of the circuit, including visits to the pits, grandstand, and podium.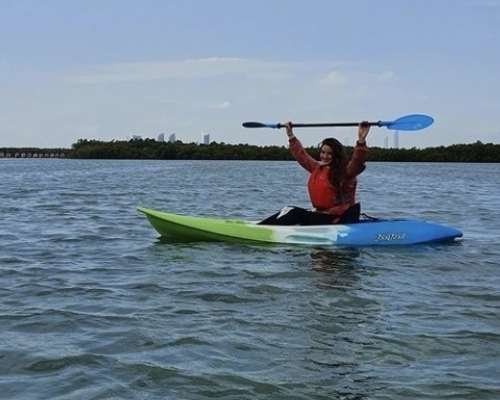 Kayak through Abu Dhabi's eastern mangroves. Sign up for the night tours and paddle through the waters to experience the city differently.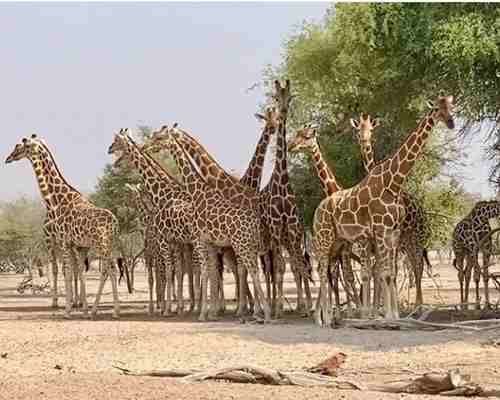 Go on safaris at the natural reserve on Sir Bani Yas Island. Wildlife such as gazelles, giraffes and leopards, and endangered animals like the Arabian Oryx freely roam within the vast area.
Shop at the Galleria Al Maryah Island, home to the most renowned brands in the world
How Far is Dubai Abu Dhabi?
A: Abu Dhabi is located 140 km far from Dubai's main city areas and takes approx 1 hour and 50 minutes by Dubai to Abu Dhabi tour bus or van ride via Sheikh Zayed Road.
How do you get from Dubai to Abu Dhabi?
A: There are many transfer options like if you are 3 or fewer people use general RTA taxi or go by metro or you can use public transport buses. But if you are a large group or family and want to have an Abu Dhabi day tour or pick n drop so better to hire a private bus or van.
What are the best restaurants to eat in Abu Dhabi?
A: There is plenty of luxury and ordinary restaurants in the city, being in the business of tourism we can suggest a few restaurants based on the tourist feedback.
Angar restaurant (Indian restaurant) located in Yas Marina Circuit,
Villa Toscana (Italian Restaurant) located in National Tower Corniche Road,
Sontaya South East Asian Restaurant (Thai Restaurant) Located in Saadiyat Island,
Paul Cafe (French Restaurant) Located in Zayed the 2nd street,
Ibrahimi Restaurant (Pakistani Restaurant) Located in Madina Zayed,
Hakkasan (Chinese Restaurant) located in Emirate Palace Corniche Road etc.
What are the adventurer things to do in Abu Dhabi at night?
A: Abu Dhabi is the city of lights, fun, and adventure, the fun activities never end and are active 24/7. You can indulge yourself in Abu Dhabi nightlife by visiting dance bars, restaurants, parks, and zoos and can roam around the city. Visit Sheikh Zayed Grand Mosque at night and enjoy the blue light reflecting the white tiles and domes.
How long is the corniche in Abu Dhabi?
A: Abu Dhabi Corniche is located in the heart of Abu Dhabi city, the Corniche road is 8 kilometers long which comprised of a beautiful park, children's play areas, cafes, and restaurants, etc. Here you can cook with family and can spend a whole day.
Is Sheikh Zayed Mosque free?
A: Yes, Sheikh Zayed Grand Mosque is free to enter. The Mosque opened from Saturday to Thursday from 9 am to 10 pm. It Friday morning time the Mosque is open for worshiper only.
What should I wear to Sheikh Zayed Mosque before entry?
A: Men shall wear loose-fitting attire and not shorts, and for women, Abaya and headscarf will be provided at the time of entry and shall be returned back at exit time.

AALI Transport and Bus Rental Dubai LLC is The Leading Transportation & One of the Best Bus Rental Companies in Dubai, Sharjah & Abu Dhabi  UAE.
We Offer a Premium Vehicles Renting Service in Dubai For Picnic &  Parties Transport, Guest Transport, Family & Friends Transport, Events Transport, Airport Transfer, City Tour Transport, Hotel Transport, Group Passenger Pick n Drop, Sightseeing Transport, etc.
We Have All Types Of Luxury Minivan and Buses with Drivers Rental Services On Daily & Weekly Bases All Over UAE.
COMPANY INFORMATION
Add: Sheikh Zayed Road Dubai & Rolla Sharjah