Abu Dhabi Sheikh Zayed Mosque Tour from Dubai
The most attractive and visiting place in Abu Dhabi City.  Each day thousand of visitors from all over the world as well as local expatriate visiting for sightseeing this beautiful religious place.
Our driver will take you from any place of Dubai via Sheikh Zayed Road to Abu Dhabi Sheikh Zayed Mosque, The distance from Dubai to Sheikh Zayed Mosque is approx 100 km, From Dubai it will take around 1 Hour 30 Minutes to arrive here.
Ferrari World Abu Dhabi Tour from Dubai
The most thrilling spot in Abu Dhabi City. Discover the amazing world with us in our Abu Dhabi tour from Dubai packages.
See the most unique Cars you have ever seen in your life in this beautiful place.
Let us drive you to Ferrari World Abu Dhabi. This is the place to go if you love cars and how they look. There are many car enthusiasts coming over to witness one of the world's most amazing displays of fantastic and prestigious cars in the Ferrari Word.
Emirates Palace Abu-Dhabi
Emirates Palace Abu Dhabi situated in heart of Abu Dhabi City, and stretch on 0.8 ml on private beach.
Its one of the most favorite spot of guest in the city, thus we picked it in our Abu Dhabi tour from Dubai Packages.
Emirates Palace Hotel Abu Dhabi is a luxury hotel that is located on Abu Dhabi, United Arab Emirates. The Emirates Palace Hotel in Abu Dhabi has 302 rooms and 92 suites.
The interior of the hotel has suites that are furnished in gold and marble. It is one of the second expensive hotels.
Yas Island Abu Dhabi Tour
It is an Island full of fund and adventure, Yas Island is one of the top rated spot in our Abu Dhabi tour form Dubai Packages.
It is situated in neighbor of Ferrari World Abu Dhabi , so could get an ample time to sightseeing both attraction in less time.
Are you seeking for a family vacation? Looking for a place to unwind? Looking for pleasure? Yas Island is a place to be. Yas Island is a natural island having an area of 2500 hectares .
It is located on Abu Dhabi which is the national capital of United Arab of Emirates.
Heritage Village Abu Dhabi
Would you like to explore how Abu Dhabi city was prior to discovery of oil in this desert city?
Want to discover old style of buildings of Arabs , Old Souq and Islamic Tradition ?
Heritage Village is the best place for true old tradition lovers.  Let us reveal more about Heritage Village in our Abu Dhabi city tour from Dubai deals.
This tourist attraction also known as the replica of Bedouin Nomad Camp. It is one of the interesting tourist attractions in United Arab of Emirates.
The Village has houses made of mud brick, some traditional mosque, and they also have some demonstration on the sport of falconry.
Dates Market Abu Dhabi
It is the biggest dates Market in UAE, and famous of unique dates, Majhool dates are really liked among the tourist specially out lander visitors.
Here you can get low rates high quality dates.   Thousands of visitors now adding this unique spot in their itinerary of Abu Dhabi tour from Dubai packages.
TDates Market is one of the most famous places in this emirate that you should not miss out. There are many things to buy here apart from dates,  like native stuffs such as carpets, colorful fabrics, and other things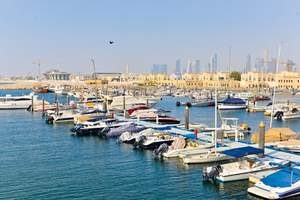 Fishing Harbour Abu Dhabi
If you love seafood, then you shouldn't forget about Fishing Harbour Abu Dhabi. This is the best place to be if you love fishes and other marine creatures that you can enjoy when you come to this place.
There are a lot of things to do in this place that you can choose from if you come over. You can find different fish varieties that you can select from. Aside from the variety, you can depend on their cheap prices.
Louvre Abu Dhabi Museum
Abu Dhabi Louvre is the largest museum in Middle East; it was inaugurated on 8 Nov 2017, It is civilization and art Museum, It is situated in Saadiyat Cultural District Abu Dhabi.
It is the must seen spot out of all other famous tourist attraction.
You will be amaze by seeing the reflection of civilization .

AALI Transport and Bus Rental Dubai LLC is The Leading Transportation Company & Best Bus Rental Company in Dubai, Sharjah & Abu Dhabi  UAE.
We Offers a Premium Vehicles Renting Service in Dubai For Picnic &  Parties Transport , Guest Transport , Family & Friends Transport , Events Transport , Airport Transfer , City Tour Transport, Hotel Transport, Group Passenger Pick n Drop, Sightseeing Transport etc.
We Have All Types Of Luxury Minivan and Buses with Drivers Rental Services On Daily & Weekly Bases All Over UAE.
Summary
Service Type
Provider Name
AALI Bus Rental & Tourism LLC
,
Description
Abu Dhabi city tour from Dubai